Solar desalination plant to serve California's Central Valley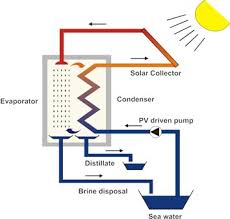 Filtration Solar desalination plant to serve California's Central Valley JULY 09, 2015
SONOMA COUNTY, Calif. — HydroRevolutionSM will construct a solar desalination plant in the Panoche Water and Drainage District in the Central Valley, according to a press release.
The facility will convert saltwater into freshwater using the sun's energy, noted the release. The plant will serve local water districts in the region, and is the first of its kind in the area.
"Given the trend of highly uncertain inputs from the Delta, we need to develop a reliable supply of water in the Central Valley," shared Panoche Water and Drainage District manager Dennis Falaschi in the release. "This is a sustainable solution that can provide a substantial amount of water. There is an enormous resource of subsurface water than can be utilized."
HydroRevolution can generate up to 5,000 acre-feet of water every year, stated the release. The amount is enough to serve 10,000 homes of 2,000 acres of cropland.
http://www.watertechonline.com/articles/170165-solar-desalination-plant-to-serve-californias-central-valley