SSF System Generic Full Reuse Recovery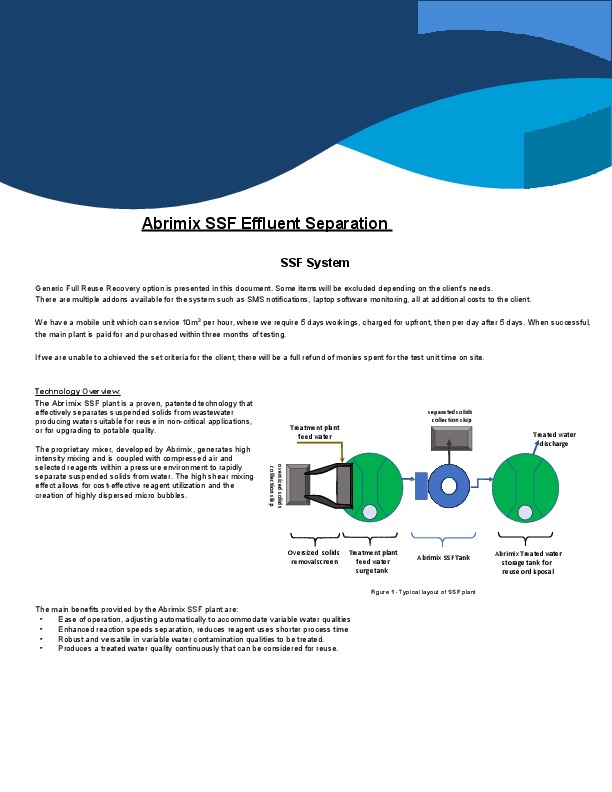 SSF System Generic Full Reuse Recovery option is presented in this document.
Some items will be excluded depending on the client's needs. There are multiple addons available for the system such as SMS notifications, laptop software monitoring, all at additional costs to the client. We have a mobile unit which can service 10m3 per hour, where we require 5 days workings, charged for upfront, then per day after 5 days. When successful, the main plant is paid for and purchased within three months of testing. If we are unable to achieved the set criteria for the client, there will be a full refund of monies spent for the test unit time on site. Technology Overview: The Abrimix SSF plant is a proven, patented technology that effectively separates suspended solids from wastewater producing water suitable for reuse in non-critical applications, or for upgrading to potable quality. Treatment plant separated solids collection skip The proprietary mixer, developed by Abrimix, generates high intensity mixing and is coupled with compressed air and selected reagents within a pressure environment to rapidly separate suspended solids from water. The high shear mixing effect allows for cost-effective reagent utilization and the creation of highly dispersed micro bubbles.
The main benefits provided by the Abrimix SSF plant are: • Ease of operation, adjusting automatically to accommodate variable water qualities • Enhanced reaction speeds separation, reduces reagent uses shorter process time • Robust and versatile in variable water contamination qualities to be treated. • Produces a treated water quality continuously that can be considered for reuse. Contact me on info@asroils.co.za For any requirements or Information