The choice is yours- Support & Bring the change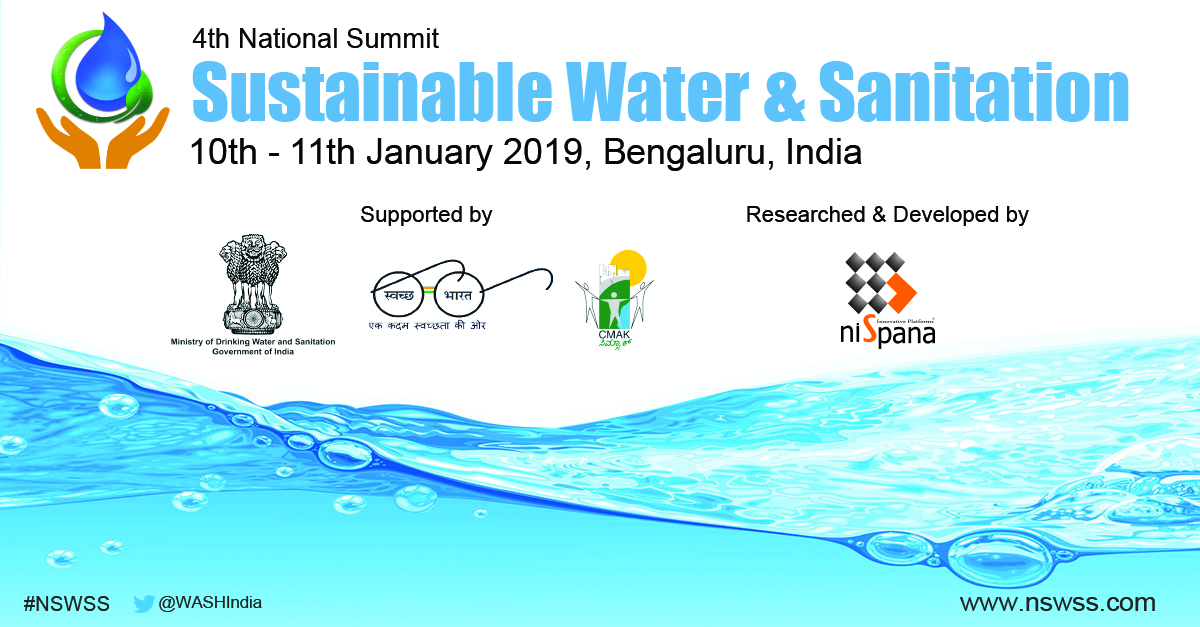 Despite an ambitious government project, over 163 million Indians lacks access to safe drinking water. This is an increasing concern for the nation. There is need of measures such as quality, quantity, reliability and access for water security. There might be several reasons for the failure of NRDW programme, though effective measures, stronger monitoring system and proper implementation could help in improving efficiency.
Understanding the existing situation and forecast, Nispana brings to you the 4th edition of National Summit on Sustainable Water and Sanitation. The theme of NSWSS 2019 is "Modernizing Innovation in Water and Sanitation".
Every year the summit brings together national & international water and sanitation experts, practitioners, government agencies under one roof to discuss their experiences, technology best practices to address the current challenges & issues. The conference is officially supported by Ministry of Drinking Water and Sanitation, Swachh Bharat, National Institute of Urban Affairs and CMAK. We have been supported by several renowned NGO's such as CDD, Ecosan Services Foundation, Gramalaya, Aga Khan Agency for Habitat India, WASH Institute and many more. Over 300 attendees will be participating in the conference this year. The USPs of event this year are exhibitions, workshops, networking sessions and wash experts panel discussions to encourage the exchange of ideas, finding solutions and forging business partnerships.
The main agenda of this conference is to understand the clean water crisis, waste water treatment capacity, water rejuvenation and gather insights the transition to water sensitive cities and towns that are livable, resilient, productive and sustainable.
Welcoming government leaders, regulators, WASH practitioners, public and private corporations, NGOs, academia and development agencies. Nominations of Sponsors, Delegates, Supporting organizations and media will be much appreciated. For any inquiry regarding registrations and participations kindly mail to rupika.k@nispana.com or visit the website for more information: https://nswss.com/