A Wireless Intelligent Valve Controller for Agriculture Integrated Irrigation System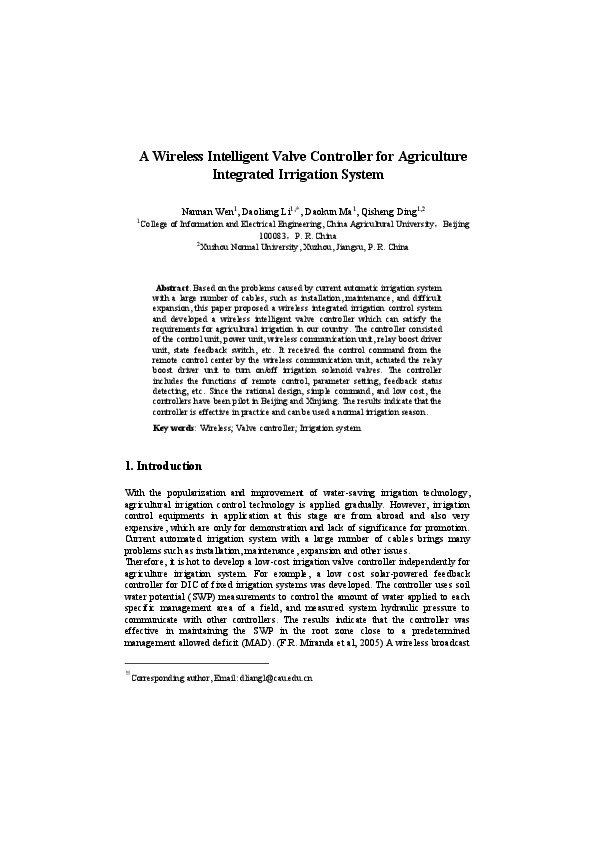 Abstract
Based on the problems caused by current automatic irrigation system with a large number of cables, such as installation, maintenance, and difficult expansion, this paper proposed a wireless integrated irrigation control system and developed a wireless intelligent valve controller which can satisfy the requirements for agricultural irrigation in our country.
The controller consisted of the control unit, power unit, wireless communication unit, relay boost driver unit, state feedback switch, etc. It received the control command from the remote control center by the wireless communication unit, actuated the relay boost driver unit to turn on/off irrigation solenoid valves.
The controller includes the functions of remote control, parameter setting, feedback status detecting, etc. Since the rational design, simple command, and low cost, the controllers have been pilot in Beijing and Xinjiang. The results indicate that the controller is effective in practice and can be used a normal irrigation season.
Key words: Wireless; Valve controller; Irrigation system
Nannan Wen, Daoliang Li, Daokun Ma, Qisheng Ding
College of Information and Electrical Engineering, China Agricultural University,Beijing 100083,P. R. China
Xuzhou Normal University, Xuzhou, Jiangsu, P. R. China