Ascaris and Escherichia coli Inactivation in an Ecological Sanitation System in Port-au-Prince Haiti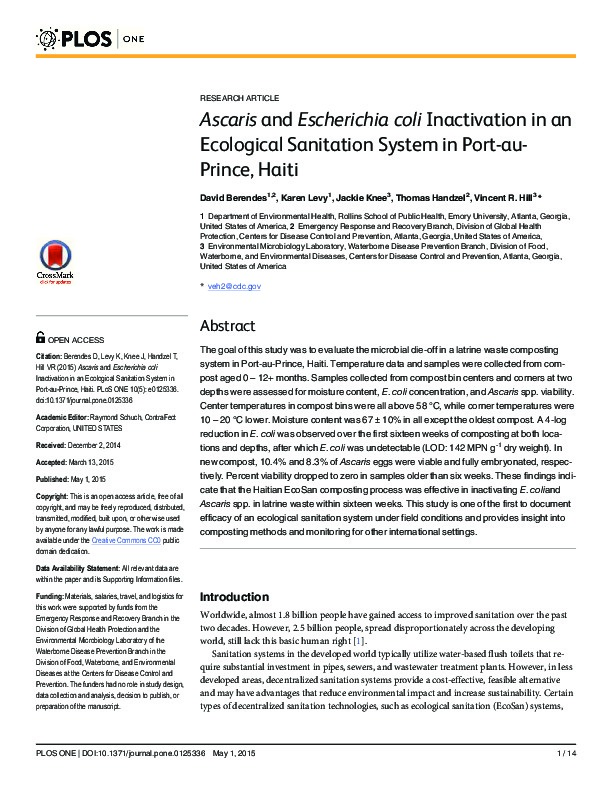 The goal of this study was to evaluate the microbial die-off in a latrine waste composting system in Port-au-Prince, Haiti. Temperature data and samples were collected from compost aged 0 – 12+ months. Samples collected from compost bin centers and corners at two depths were assessed for moisture content,
E . Coli concentration, and Ascaris spp. viability. Center temperatures in compost bins were all above 58 °C, while corner temperatures were 10 – 20 °C lower. Moisture content was 67 ± 10% in all except the oldest compost. A 4-log reduction in E. Coli was observed over the first sixteen weeks of composting at both locations and depths, after which E. coli was undetectable (LOD: 142 MPN g-1 dry weight).
In new compost, 10.4% and 8.3% of Ascaris eggs were viable and fully embryonated, respectively. Percent viability dropped to zero in samples older than six weeks. These findings indicate that the Haitian EcoSan composting process was effective in inactivating E. Coli and Ascaris spp. in latrine waste within sixteen weeks.
This study is one of the first to document efficacy of an ecological sanitation system under field conditions and provides insight into composting methods and monitoring for other international settings.