Assessment of Aquatic Pollution Using Histopathology in Fish as a Protocol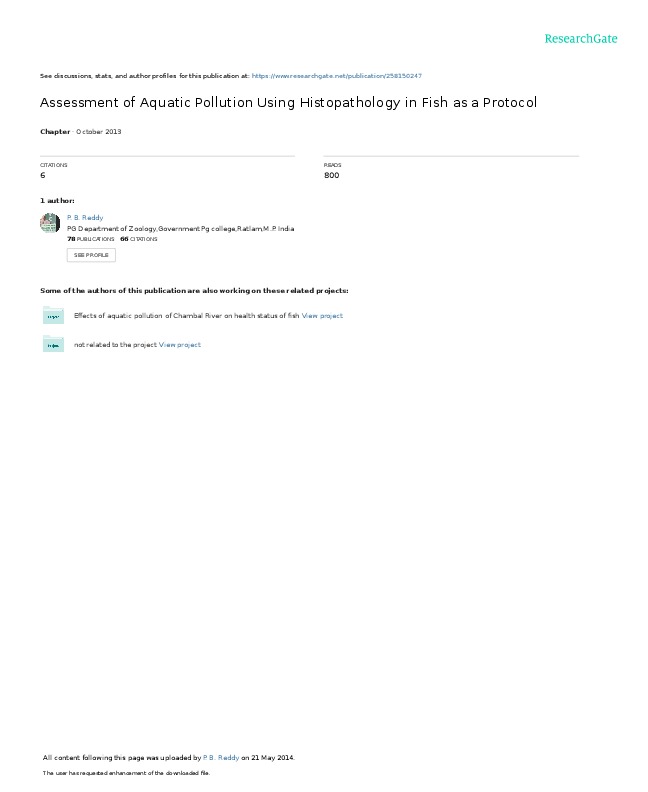 In chemical monitoring the presence of pollutants in tissues are evaluated by chemical analysis, but biomonitoring methods evaluate not only the presence, but also the response of the organisms to these pollutants by the assessment of various cellular, biochemical and histopathological biomarkers. Hence the use of these biomarkers integrates in chemical monitoring programmes to determine the toxic effects of pollutants. This paper presents an overview on the development and application of histopathology of fish as biomarkers. Because histopatholoigcal alterations in fish are mainly depend on the water quality. Aquatic pollution with different pollutants has a subject of great concern. Hence there is an urgent need for bio-monitoring tools in impact assessment to indicate the effects of pollution. Various biochemical studies of fish have been used to assess the impact of aquatic pollution. But histopathology provides direct and reliable evidence by identifying the cellular destructions. Therefore, the present study is aimed to study the histopathological alterations in various organs in various fish species in different environmental conditions. Moreover, it offers a means of detecting harmful effects of pollution in different tissues in different fish species. The present study reviews the most important histo-cytopathological alterations in various organs of fish, which have been used as monitoring tools in various pollution monitoring programs. This review provides useful information of effects of aquatic pollution on different organs in different species of fish. We believe that this study may provide a powerful and useful tool for the assessment of biological effects and to identify target organ toxicity.
Keywords: Histopathology, biomarker, fish, contamination.
P. B. Reddy
PG Department of Zoology,Government Pg college,Ratlam,M.P. India