Bioaugmentation - An Emerging Strategy of Industrial Wastewater Treatment for Reuse and Discharge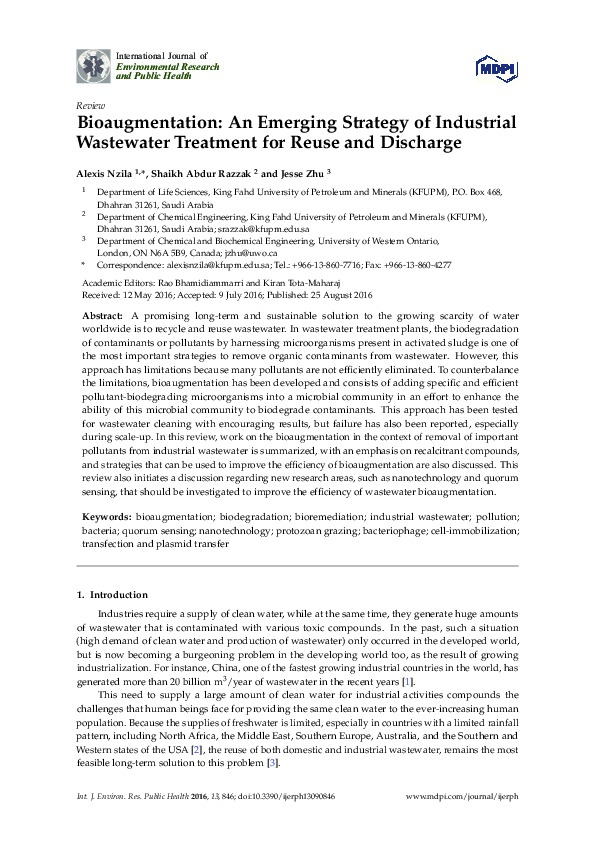 Bioaugmentation: An Emerging Strategy of Industrial Wastewater Treatment for Reuse and Discharge
Alexis Nzila, Shaikh Abdur Razzak and Jesse Zhu
Abstract
A promising long-term and sustainable solution to the growing scarcity of water worldwide is to recycle and reuse wastewater. In wastewater treatment plants, the biodegradation of contaminants or pollutants by harnessing microorganisms present in activated sludge is one of the most important strategies to remove organic contaminants from wastewater. However, this approach has limitations because many pollutants are not efficiently eliminated.
To counterbalance the limitations, bioaugmentation has been developed and consists of adding specific and efficient pollutant-biodegrading microorganisms into a microbial community in an effort to enhance the ability of this microbial community to biodegrade contaminants. This approach has been tested for wastewater cleaning with encouraging results, but failure has also been reported, especially during scale-up.
In this review, work on the bioaugmentation in the context of removal of important pollutants from industrial wastewater is summarized, with an emphasis on recalcitrant compounds, and strategies that can be used to improve the efficiency of bioaugmentation are also discussed. This review also initiates a discussion regarding new research areas, such as nanotechnology and quorum sensing, that should be investigated to improve the efficiency of wastewater bioaugmentation.
Keywords : bioaugmentation; biodegradation; bioremediation; industrial wastewater; pollution; bacteria; quorum sensing; nanotechnology; protozoan grazing; bacteriophage; cell-immobilization; transfection and plasmid transfer
Int. J. Environ. Res. Public Health 2016 , 13 (9), 846; https://doi.org/10.3390/ijerph13090846
Nzila, A.; Razzak, S.A.; Zhu, J. Bioaugmentation: An Emerging Strategy of Industrial Wastewater Treatment for Reuse and Discharge. Int. J. Environ. Res. Public Health 2016 , 13 , 846.
Source: MDPI