Bioremediation of Waste Water to Remove Heavy Metals Using the Spent Mushroom Substrate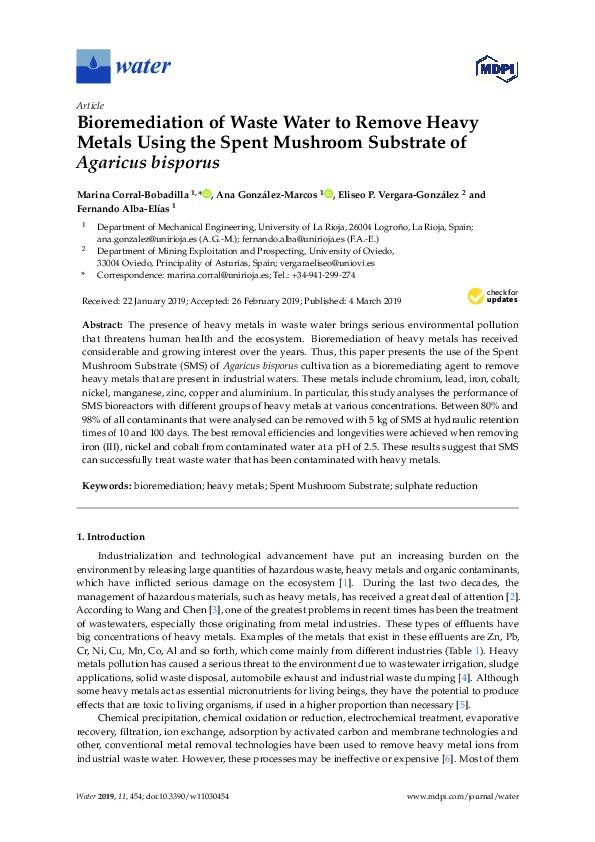 Bioremediation of Waste Water to Remove Heavy Metals Using the Spent Mushroom Substrate of Agaricus bisporus
Marina Corral-Bobadilla, Ana González-Marcos, Eliseo P. Vergara-González, Fernando Alba-Elías
Abstract:
The presence of heavy metals in waste water brings serious environmental pollution that threatens human health and the ecosystem. Bioremediation of heavy metals has received considerable and growing interest over the years.
Thus, this paper presents the use of the Spent Mushroom Substrate (SMS) of Agaricus bisporus cultivation as a bioremediating agent to remove heavy metals that are present in industrial waters. These metals include chromium, lead, iron, cobalt, nickel, manganese, zinc, copper and aluminium. In particular, this study analyses the performance of SMS bioreactors with different groups of heavy metals at various concentrations. Between 80% and 98% of all contaminants that were analysed can be removed with 5 kg of SMS at hydraulic retention times of 10 and 100 days. The best removal efficiencies and longevities were achieved when removing iron (III), nickel and cobalt from contaminated water at a pH of 2.5.
These results suggest that SMS can successfully treat waste water that has been contaminated with heavy metals.
Keywords : bioremediation; heavy metals; Spent Mushroom Substrate; sulphate reduction
Water 2019, 11(3), DOI: 10.3390/w11030454
Source: MDPI / Water