Chemical Waste Management in the U.S. Semiconductor Industry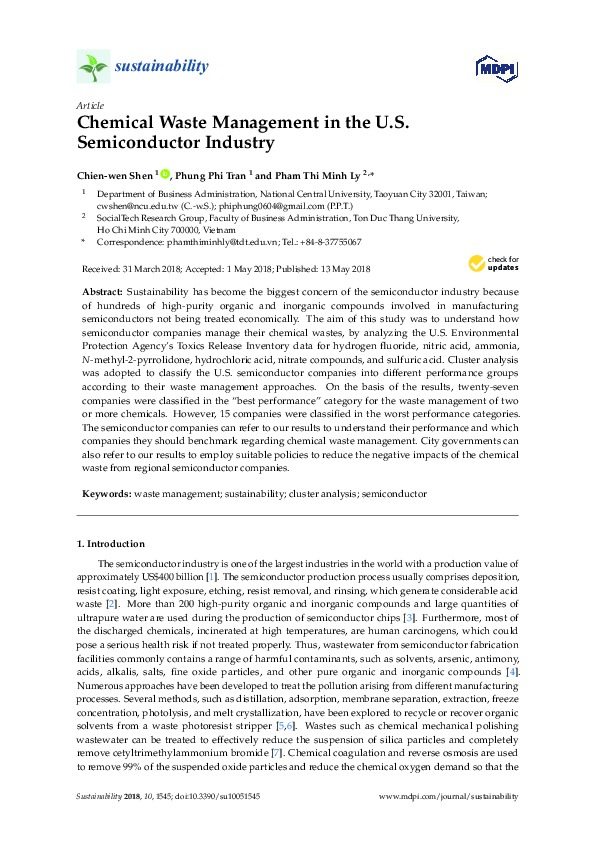 Chemical Waste Management in the U.S. Semiconductor Industry
Chien-wen Shen, Phung Phi Tran and Pham Thi Minh Ly
Abstract
Sustainability has become the biggest concern of the semiconductor industry because of hundreds of high-purity organic and inorganic compounds involved in manufacturing semiconductors not being treated economically. The aim of this study was to understand how semiconductor companies manage their chemical wastes, by analyzing the U.S. Environmental Protection Agency's Toxics Release Inventory data for hydrogen fluoride, nitric acid, ammonia, N-methyl-2-pyrrolidone, hydrochloric acid, nitrate compounds, and sulfuric acid.
Cluster analysis was adopted to classify the U.S. semiconductor companies into different performance groups according to their waste management approaches. On the basis of the results, twenty-seven companies were classified in the "best performance" category for the waste management of two or more chemicals. However, 15 companies were classified in the worst performance categories.
The semiconductor companies can refer to our results to understand their performance and which companies they should benchmark regarding chemical waste management. City governments can also refer to our results to employ suitable policies to reduce the negative impacts of the chemical waste from regional semiconductor companies.
Keywords : waste management; sustainability; cluster analysis; semiconductor
Sustainability 2018 , 10 (5), 1545; https://doi.org/10.3390/su10051545
Shen, C.-W.; Tran, P.P.; Minh Ly, P.T. Chemical Waste Management in the U.S. Semiconductor Industry. Sustainability 2018 , 10 , 1545.
Source: MDPI