Circular Economy - The Case of Wastewater Reuse in Braunschweig (Germany)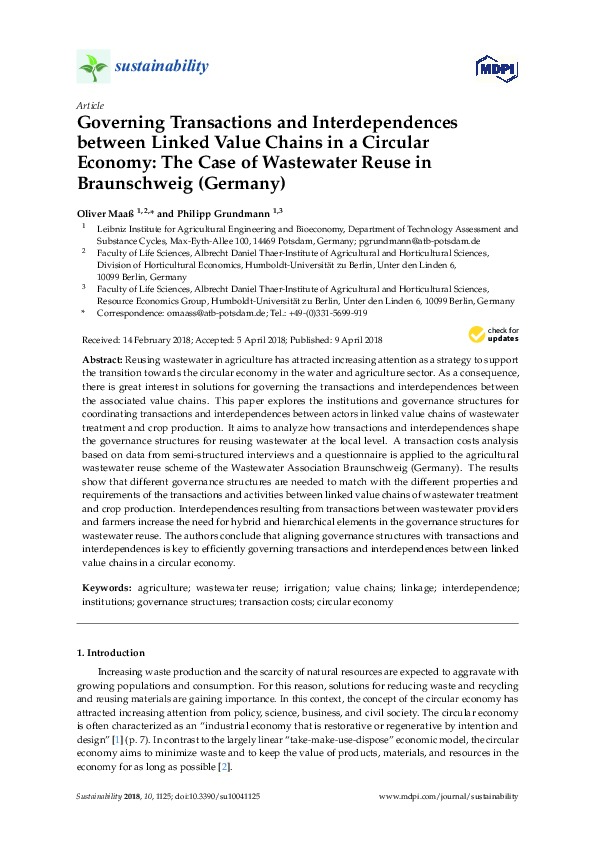 Governing Transactions and Interdependences between Linked Value Chains in a Circular Economy: The Case of Wastewater Reuse in Braunschweig (Germany)
Oliver Maaß and Philipp Grundmann
Abstract
Reusing wastewater in agriculture has attracted increasing attention as a strategy to support the transition towards the circular economy in the water and agriculture sector. As a consequence, there is great interest in solutions for governing the transactions and interdependences between the associated value chains. This paper explores the institutions and governance structures for coordinating transactions and interdependences between actors in linked value chains of wastewater treatment and crop production.
It aims to analyze how transactions and interdependences shape the governance structures for reusing wastewater at the local level. A transaction costs analysis based on data from semi-structured interviews and a questionnaire is applied to the agricultural wastewater reuse scheme of the Wastewater Association Braunschweig (Germany).
The results show that different governance structures are needed to match with the different properties and requirements of the transactions and activities between linked value chains of wastewater treatment and crop production. Interdependences resulting from transactions between wastewater providers and farmers increase the need for hybrid and hierarchical elements in the governance structures for wastewater reuse.
The authors conclude that aligning governance structures with transactions and interdependences is key to efficiently governing transactions and interdependences between linked value chains in a circular economy.
Keywords : agriculture; wastewater reuse; irrigation; value chains; linkage; interdependence; institutions; governance structures; transaction costs; circular economy
Sustainability 2018 , 10 (4), 1125; https://doi.org/10.3390/su10041125
Maaß, O.; Grundmann, P. Governing Transactions and Interdependences between Linked Value Chains in a Circular Economy: The Case of Wastewater Reuse in Braunschweig (Germany). Sustainability 2018 , 10 , 1125.
Source: MDPI