Clays-Andisol Adsorbent in Lariat Heavy Metal Cadmium and Bacterial Pathogens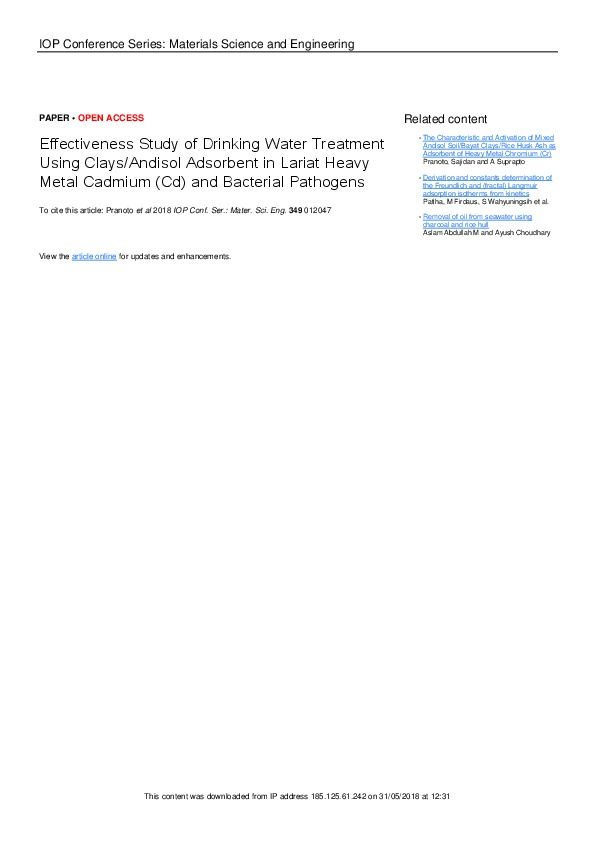 Effectiveness Study of Drinking Water Treatment Using Clays/Andisol Adsorbent in Lariat Heavy Metal Cadmium (Cd) and Bacterial Pathogens
Pranoto, Inayati, Fathoni Firmansyah
*Corresponding author, Email: pakpranotomipa@staff.uns.ac.id
Abstract:
Water is a natural resource that is essential for all living creatures. In addition, water also caused of disease affecting humans. The existence of one of heavy metal pollutants cadmium (Cd) in the body of water is an environmental problem having a negative impact on the quality of water resources. Adsorption is one of the ways or methods that are often used for the treatment of wastewater.
Clay and allophanic soil were used as Cd adsorbent by batch method. Ceramic filter was used to reduce Cd concentration in the ground water. This study aims to determine the effect of the composition of clay and Allophane, activation temperature and contact time on the adsorption capacity of Cd in the model solution. The optimum adsorption condition and the effectiveness of drinking water treatment in accordance with Regulation of the Minister of Health using clay/Andisol adsorbents in ensnare heavy metals Cd and bacterial pathogens.
Identification and characterization of adsorbent is done by using NaF, Infrared Spectroscopy (FTIR), X-ray diffraction (XRD), specific surface area and total acidity specific. The Cd metal concentrations were analysed by atomic absorption spectroscopy. Adsorption isotherms determined by Freundlich and Langmuir equations. Modified water purification technology using ceramic filters are made with a mixture of clay and Andisol composition.
The results showed samples of clay and Andisol containing minerals. The optimum condition of adsorption was achieved at 200 °C of activation temperature, 60 minutes of contact time and the 60:40 of clay:Andisol adsorbent composition. Freundlich isotherm represented Cd adsorption on the clay/Andisol adsorbent with a coefficient of determination (R2=0.99) and constant (k=1.59), higher than Langmuir (R2=0.89).
The measurement results show the water purification technology using ceramic filters effectively reduce E. coli bacterial and Cd content in the water
Source: IOP Science