Collaborative Risk Informed Decision Analysis A Water Security Case Study in the Philippines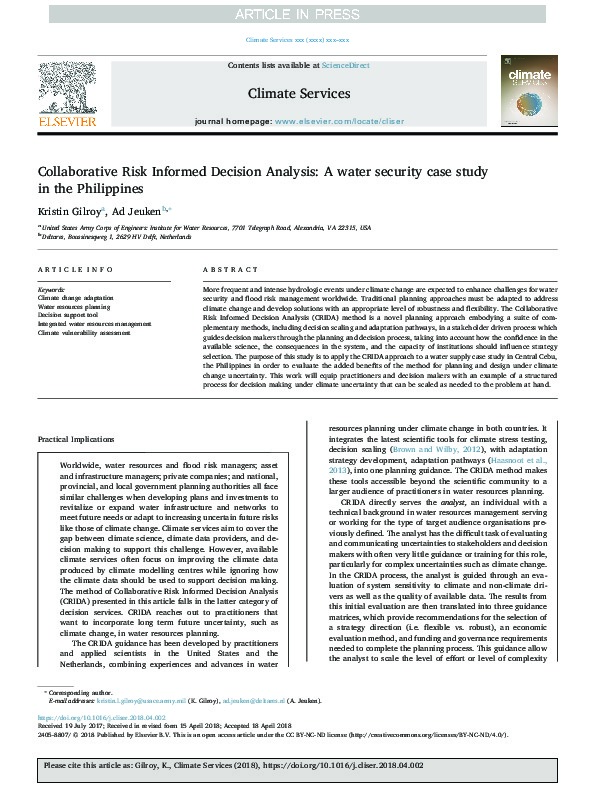 Kristin Gilroya, Ad Jeukenb
Abstract
More frequent and intense hydrologic events under climate change are expected to enhance challenges for water security and flood risk management worldwide.
Traditional planning approaches must be adapted to address climate change and develop solutions with an appropriate level of robustness and flexibility.
The Collaborative Risk Informed Decision Analysis (CRIDA) method is a novel planning approach embodying a suite of complementary methods, including decision scaling and adaptation pathways, in a stakeholder driven process which guides decision makers through the planning and decision process, taking into account how the confidence in the available science, the consequences in the system, and the capacity of institutions should influence strategy selection.
The purpose of this study is to apply the CRIDA approach to a water supply case study in Central Cebu, the Philippines in order to evaluate the added benefits of the method for planning and design under climate change uncertainty. This work will equip practitioners and decision makers with an example of a structured process for decision making under climate uncertainty that can be scaled as needed to the problem at hand.
Source: Science Direct