Comparative Analysis of the Energy Consumption of Different Wastewater Treatment Plants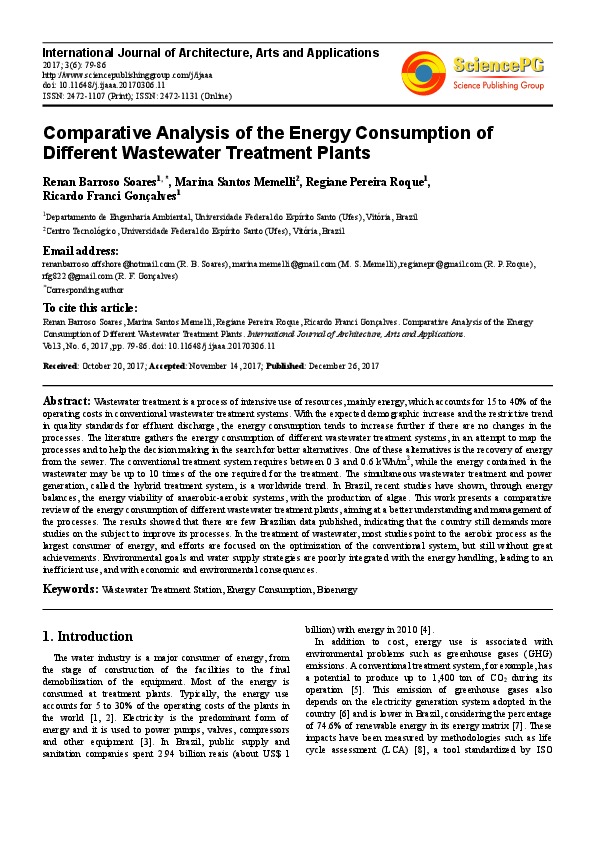 Comparative Analysis of the Energy Consumption of Different Wastewater Treatment Plants
Renan Barroso Soares, Marina Santos Memelli, Regiane Pereira Roque, Ricardo Franci Gonçalves
Abstract:
Wastewater treatment is a process of intensive use of resources, mainly energy, which accounts for 15 to 40% of the operating costs in conventional wastewater treatment systems. With the expected demographic increase and the restrictive trend in quality standards for effluent discharge, the energy consumption tends to increase further if there are no changes in the processes.
The literature gathers the energy consumption of different wastewater treatment systems, in an attempt to map the processes and to help the decision making in the search for better alternatives. One of these alternatives is the recovery of energy from the sewer. The conventional treatment system requires between 0.3 and 0.6 kWh/m3 , while the energy contained in the wastewater may be up to 10 times of the one required for the treatment.
The simultaneous wastewater treatment and power generation, called the hybrid treatment system, is a worldwide trend. In Brazil, recent studies have shown, through energy balances, the energy viability of anaerobic-aerobic systems, with the production of algae. This work presents a comparative review of the energy consumption of different wastewater treatment plants, aiming at a better understanding and management of the processes.
The results showed that there are few Brazilian data published, indicating that the country still demands more studies on the subject to improve its processes. In the treatment of wastewater, most studies point to the aerobic process as the largest consumer of energy, and efforts are focused on the optimization of the conventional system, but still without great achievements.
Environmental goals and water supply strategies are poorly integrated with the energy handling, leading to an inefficient use, and with economic and environmental consequences.
Keywords : Wastewater Treatment Station, Energy Consumption, Bioenergy
Renan Barroso Soares, Marina Santos Memelli, Regiane Pereira Roque, Ricardo Franci Gonçalves. Comparative Analysis of the Energy Consumption of Different Wastewater Treatment Plants . International Journal of Architecture, Arts and Applications. Vol.3, No. 6, 2017, pp. 79-86. doi: 10.11648/j.ijaaa.20170306.11
International Journal of Architecture, Arts and Applications 2017; 3(6): 79-86 http://www.sciencepublishinggroup.com/j/ijaaa doi: 10.11648/j.ijaaa.20170306.11 ISSN: 2472-1107 (Print); ISSN: 2472-1131 (Online)
Source: Science PG