Easily Regenerated Readily Deployable Absorbent for Heavy Metal Removal from Contaminated Water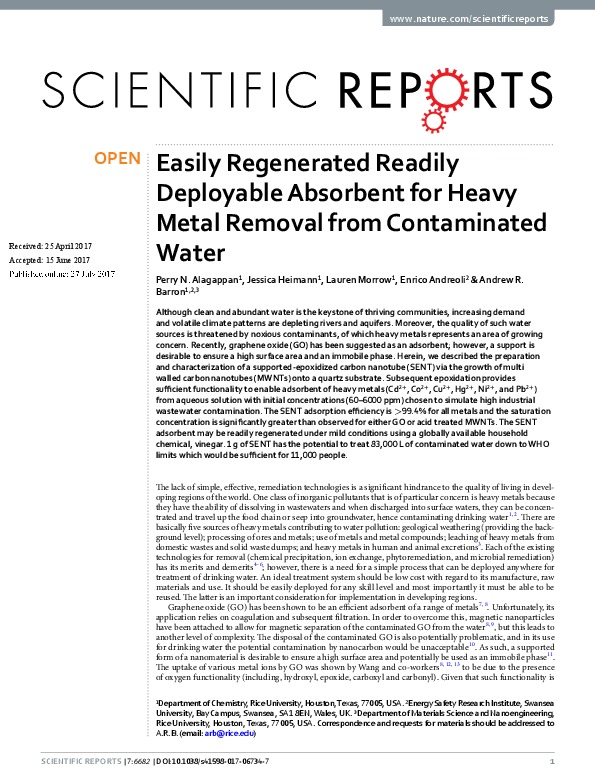 Perry N. Alagappan, Jessica Heimann, Lauren Morrow, Enrico Andreoli & Andrew R. Barron
Although clean and abundant water is the keystone of thriving communities, increasing demand and volatile climate patterns are depleting rivers and aquifers. Moreover, the quality of such water sources is threatened by noxious contaminants, of which heavy metals represents an area of growing concern.
Recently, graphene oxide (GO) has been suggested as an adsorbent; however, a support is desirable to ensure a high surface area and an immobile phase. Herein, we described the preparation and characterization of a supported-epoxidized carbon nanotube (SENT) via the growth of multi walled carbon nanotubes (MWNTs) onto a quartz substrate.
Subsequent epoxidation provides sufficient functionality to enable adsorbent of heavy metals (Cd2+, Co2+, Cu2+, Hg2+, Ni2+, and Pb2+) from aqueous solution with initial concentrations (60–6000 ppm) chosen to simulate high industrial wastewater contamination.
The SENT adsorption efficiency is >99.4% for all metals and the saturation concentration is significantly greater than observed for either GO or acid treated MWNTs. The SENT adsorbent may be readily regenerated under mild conditions using a globally available household chemical, vinegar. 1g of SENT has the potential to treat 83,000L of contaminated water down to WHO limits which would be sufficient for 11,000 people.
Source: Nature.com