EPA - Drinking Water Action Plan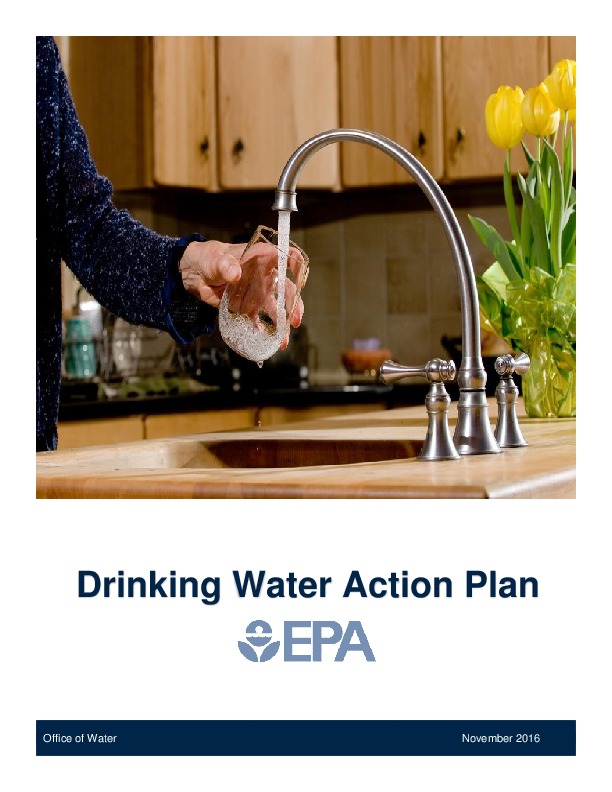 Safe drinking water is critical to our Nation's public health and economic vitality.
The U.S. drinking water system – supported by the Safe Drinking Water Act (SDWA) and the work of federal, tribal, state, and local governments and utilities nationwide – is one of our country's greatest public health achievements.
While America's drinking water remains among the safest in the world, the drinking water sector faces a growing array of challenges that, if left unaddressed, can pose serious risks to public health and local economies including:
aging infrastructure
limited funding and management capacity, especially for small and disadvantaged (i.e. low-income, economically stressed, or environmentally overburdened) communities
challenges with maintaining robust state oversight programs
degradation of sources of drinking water
risks from unregulated contaminants
threats associated with climate and extreme weather events
At the same time, this is a moment of tremendous opportunity for innovation and progress in health protection, thanks to advances in drinking water treatment and monitoring technology; new approaches to information management, communications, and water infrastructure finance; emerging partnerships spanning government, utilities and the public; and lessons learned in over 40 years of implementing SDWA.
This Plan is a national call to action, urging all levels of government, utilities and other key stakeholders to work together – to reinvigorate the safe drinking water enterprise and make investments that will impart healthy thriving communities nationwide.
The Plan is organized around six Priority Areas in which there is significant opportunity for leadership from states and other partners, as summarized in this document.
Each offers compelling opportunities for government and stakeholders to work together on creative and pragmatic new approaches – leveraging information to empower consumers and promote robust accountability, promoting equity in infrastructure financing and management, creating new partnerships to protect drinking water sources and promote regional cooperation to solve drinking water challenges, and driving new technologies to better protect public health.
Source: EPA