Fe0/H2O Filtration Systems for Decentralized Safe Drinking Water: Where to from Here?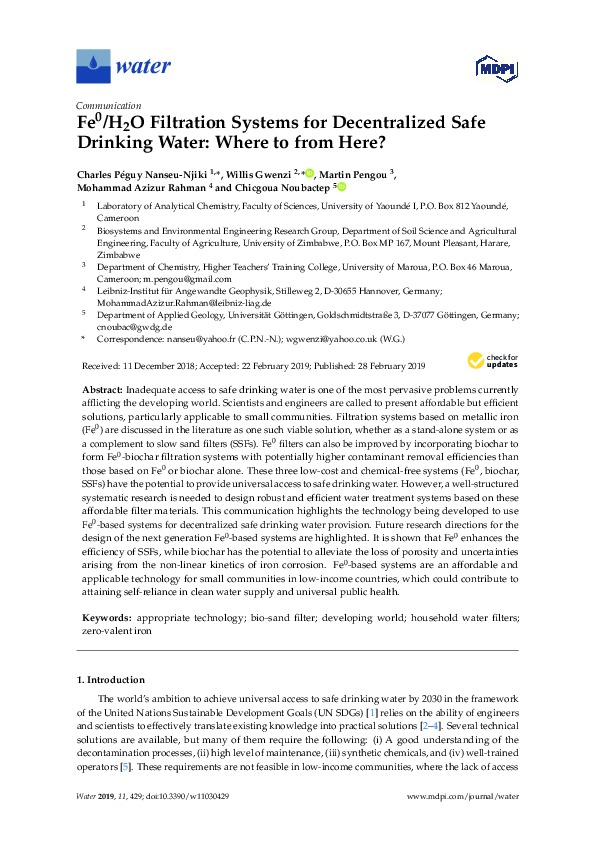 Source: MDPIFe0/H2O Filtration Systems for Decentralized Safe Drinking Water: Where to from Here?
Charles Péguy Nanseu -Njiki, Willis Gwenzi, Martin Pengou , Mohammad Azizur Rahman, Chicgoua Noubactep
Abstract:
Inadequate access to safe drinking water is one of the most pervasive problems currently afflicting the developing world. Scientists and engineers are called to present affordable but efficient solutions, particularly applicable to small communities.
Filtration systems based on metallic iron (Fe0) are discussed in the literature as one such viable solution, whether as a stand-alone system or as a complement to slow sand filters (SSFs). Fe0 filters can also be improved by incorporating biochar to form Fe0-biochar filtration systems with potentially higher contaminant removal efficiencies than those based on Fe0 or biochar alone. These three low-cost and chemical-free systems (Fe0, biochar, SSFs) have the potential to provide universal access to safe drinking water. However, well-structured systematic research is needed to design robust and efficient water treatment systems based on these affordable filter materials.
This communication highlights the technology being developed to use Fe0-based systems for decentralized safe drinking water provision. Future research directions for the design of the next generation Fe0-based systems are highlighted. It is shown that Fe0 enhances the efficiency of SSFs, while biochar has the potential to alleviate the loss of porosity and uncertainties arising from the non-linear kinetics of iron corrosion. Fe0-based systems are affordable and applicable technology for small communities in low-income countries, which could contribute to attaining self-reliance in clean water supply and universal public health.
Keywords: appropriate technology; bio-sand filter; developing world; household water filters; zero-valent iron
Water 2019, 11(3), 429; DOI: 10.3390/w11030429
Source: MDPI