Guidelines for Water Loss Reduction - A Focus on Pressure Management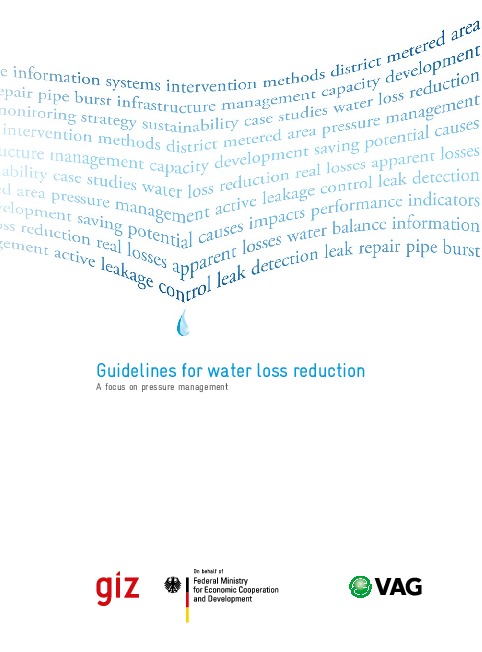 One of the major objectives of these guidelines is to reduce water loss by improving the management of existing water supply networks, with a special focus on the method of pressure management.
The guidelines have been prepared within a development partnership (formerly known as public private partnerships, PPP) between the Deutsche Gesellschaft für Internationale Zusammenarbeit (GIZ) GmbH and VAG Armaturen GmbH.
The Institute for Ecopreneurship (IEC) at the University of Applied Sciences Northwestern Switzerland (FHNW) supported project management. The Institute for Water and River Basin Management (IWG) of the Karlsruhe Institute of Technology (KIT) coordinated the elaboration of the document.
Support and advice were further provided by a variety of external experts from the public and private sector working in the field of water loss reduction. The UN-Water Decade Programme on Capacity Development (UNW-DPC) which is actively organising training workshops worldwide on water loss reduction has granted its support for the dissemination and implementation of the guidelines.
The technical manual has been reviewed and commented upon by experts from the International Water Association (IWA), the Technical University of Dresden, Germany and the Kreditanstalt für Wiederaufbau (KfW). Additionally, the structure and contents of the water loss reduction guidelines have been presented at stakeholder dialogues in Beirut, Lebanon attended by 44 participants from Lebanon, Jordan, Syria and the Palestinian Territories and in Lima, Peru with more than 200 participants from Peru and Bolivia.
Furthermore, the project and the guidelines have been presented to representatives of German consulting companies as well as at the IWA Conference Water Loss 2010 in São Paulo, Brazil. Feedback from participants has been collected and incorporated into the documents.
The management team behind this initiative wishes to express its sincere thanks to the experts from VAG, GIZ, IWG-KIT and IEC-FHNW and all who participated by sharing their time, information and insights.
By Deutsche Gesellschaft für Internationale Zusammenarbeit (GIZ) GmbH, VAG Armaturen GmbH (VAG), Fachhochschule Nordwestschweiz (FHNW), Karlsruhe Institute of Technology (KIT)
Source: GIZ