How to Interpret a Water Analysis Report, 2018, The Pennsylvania State University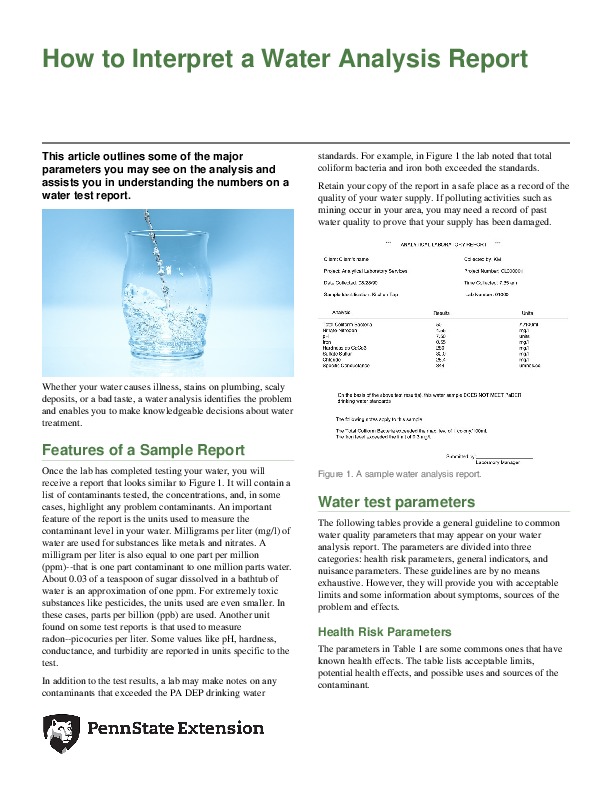 This article outlines some of the major parameters you may see on the analysis and assists you in understanding the numbers on a water test report.
Once the lab has completed testing your water, you will receive a report that looks similar to Figure 1. It will contain a list of contaminants tested, the concentrations, and, in some cases, highlight any problem contaminants. An important feature of the report is the units used to measure the contaminant level in your water. Milligrams per liter (mg/l) of water are used for substances like metals and nitrates. A milligram per liter is also equal to one part per million (ppm)--that is one part contaminant to one million parts water.
About 0.03 of a teaspoon of sugar dissolved in a bathtub of water is an approximation of one ppm. For extremely toxic substances like pesticides, the units used are even smaller. In these cases, parts per billion (ppb) are used. Another unit found on some test reports is that used to measure radon--picocuries per liter. Some values like pH, hardness, conductance, and turbidity are reported in units specific to the test.
In addition to the test results, a lab may make notes on any contaminants that exceeded the PA DEP drinking water.