Improving Decentralized Wastewater Treatment by the Food and Beverage Industries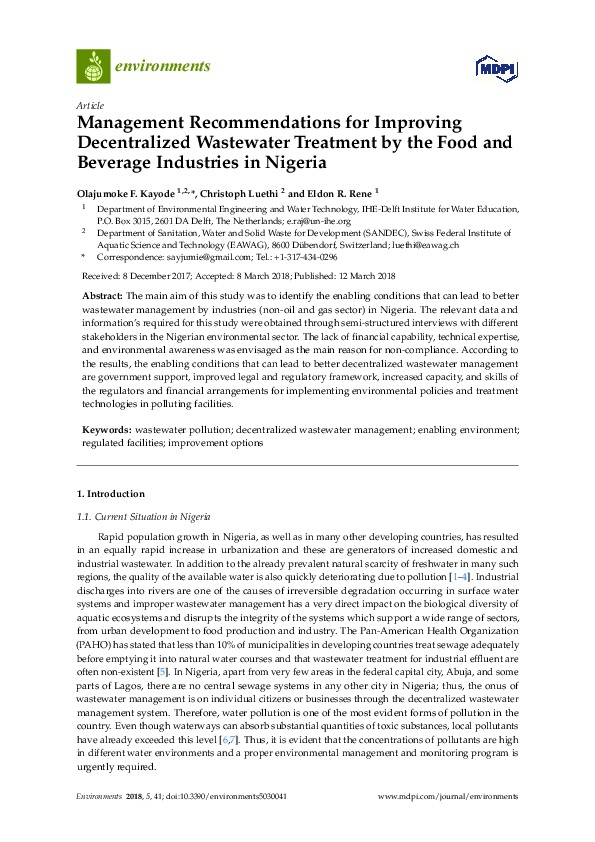 Management Recommendations for Improving Decentralized Wastewater Treatment by the Food and Beverage Industries in Nigeria
Olajumoke F. Kayode, Christoph Luethi and Eldon R. Rene
Abstract
The main aim of this study was to identify the enabling conditions that can lead to better wastewater management by industries (non-oil and gas sector) in Nigeria. The relevant data and information's required for this study were obtained through semi-structured interviews with different stakeholders in the Nigerian environmental sector. The lack of financial capability, technical expertise, and environmental awareness was envisaged as the main reason for non-compliance.
According to the results, the enabling conditions that can lead to better decentralized wastewater management are government support, improved legal and regulatory framework, increased capacity, and skills of the regulators and financial arrangements for implementing environmental policies and treatment technologies in polluting facilities.
Keywords : wastewater pollution; decentralized wastewater management; enabling environment; regulated facilities; improvement options
Environments 2018 , 5 (3), 41; https://doi.org/10.3390/environments5030041
Kayode, O.F.; Luethi, C.; Rene, E.R. Management Recommendations for Improving Decentralized Wastewater Treatment by the Food and Beverage Industries in Nigeria. Environments 2018 , 5 , 41.
Source: MDPI