Integrated Assessment of Novel Urban Water Infrastructures in Frankfurt am Main and Hamburg, Germany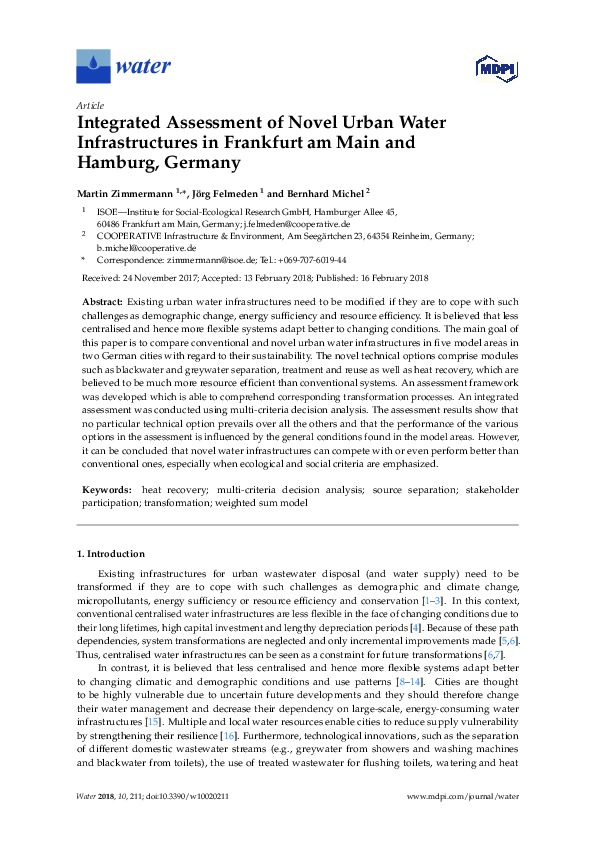 Integrated Assessment of Novel Urban Water Infrastructures in Frankfurt am Main and Hamburg, Germany
Martin Zimmermann, Jörg Felmeden and Bernhard Michel
Abstract
Existing urban water infrastructures need to be modified if they are to cope with such challenges as demographic change, energy sufficiency and resource efficiency. It is believed that less centralised and hence more flexible systems adapt better to changing conditions. The main goal of this paper is to compare conventional and novel urban water infrastructures in five model areas in two German cities with regard to their sustainability.
The novel technical options comprise modules such as blackwater and greywater separation, treatment and reuse as well as heat recovery, which are believed to be much more resource efficient than conventional systems. An assessment framework was developed which is able to comprehend corresponding transformation processes. An integrated assessment was conducted using multi-criteria decision analysis. The assessment results show that no particular technical option prevails over all the others and that the performance of the various options in the assessment is influenced by the general conditions found in the model areas.
However, it can be concluded that novel water infrastructures can compete with or even perform better than conventional ones, especially when ecological and social criteria are emphasized.
Keywords : heat recovery; multi-criteria decision analysis; source separation; stakeholder participation; transformation; weighted sum model
Water 2018 , 10 (2), 211; https://doi.org/10.3390/w10020211
Zimmermann, M.; Felmeden, J.; Michel, B. Integrated Assessment of Novel Urban Water Infrastructures in Frankfurt am Main and Hamburg, Germany. Water 2018 , 10 , 211.
Source: MDPI