LANKA WATER EXPO 2016 - Avail Special Offer - Valid until 30th June 2016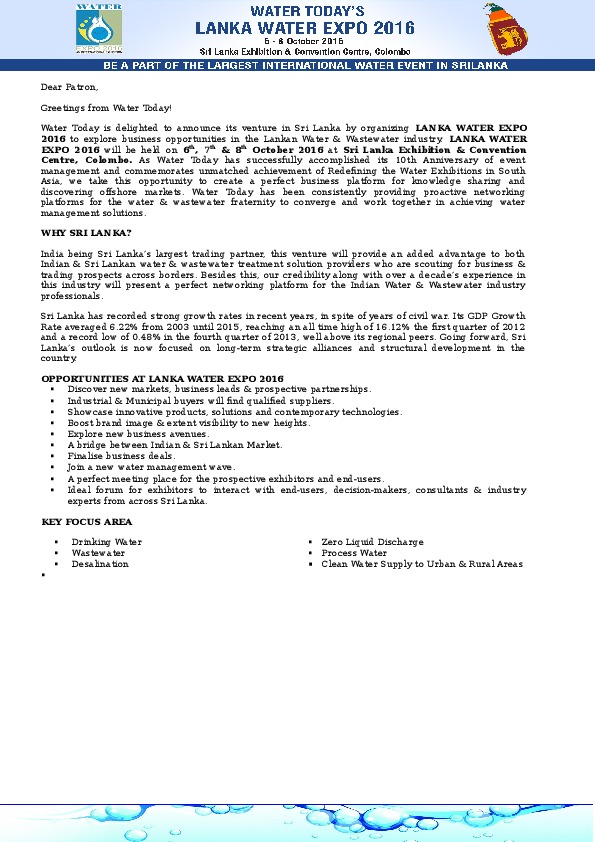 Dear Patron,
Greetings from Water Today!
Water Today is delighted to announce its venture in Sri Lanka by organizing LANKA WATER EXPO 2016 to explore business opportunities in the Lankan Water & Wastewater industry. LANKA WATER EXPO 2016 will be held on 6th, 7th & 8th October 2016 at Sri Lanka Exhibition & Convention Centre, Colombo. As Water Today has successfully accomplished its 10th Anniversary of event management and commemorates unmatched achievement of Redefining the Water Exhibitions in South Asia, we take this opportunity to create a perfect business platform for knowledge sharing and discovering offshore markets. Water Today has been consistently providing proactive networking platforms for the water & wastewater fraternity to converge and work together in achieving water management solutions.
WHY SRI LANKA?
India being Sri Lanka's largest trading partner, this venture will provide an added advantage to both Indian & Sri Lankan water & wastewater treatment solution providers who are scouting for business & trading prospects across borders. Besides this, our credibility along with over a decade's experience in this industry will present a perfect networking platform for the Indian Water & Wastewater industry professionals.
Sri Lanka has recorded strong growth rates in recent years, in spite of years of civil war. Its GDP Growth Rate averaged 6.22% from 2003 until 2015, reaching an all time high of 16.12% the first quarter of 2012 and a record low of 0.48% in the fourth quarter of 2013, well above its regional peers. Going forward, Sri Lanka's outlook is now focused on long-term strategic alliances and structural development in the country.
OPPORTUNITIES AT LANKA WATER EXPO 2016
Discover new markets, business leads & prospective partnerships.
Industrial & Municipal buyers will find qualified suppliers.
Showcase innovative products, solutions and contemporary technologies.
Boost brand image & extent visibility to new heights.
Explore new business avenues.
A bridge between Indian & Sri Lankan Market.
Finalise business deals.
Join a new water management wave.
A perfect meeting place for the prospective exhibitors and end-users.
Ideal forum for exhibitors to interact with end-users, decision-makers, consultants & industry experts from across Sri Lanka.
KEY FOCUS AREA
Drinking Water
Wastewater
Desalination
Zero Liquid Discharge
Process Water
Clean Water Supply to Urban & Rural Areas
WHO SHOULD ATTEND
CEOs, COOs, General Managers, Project Managers, Engineers, Scientists, Managers and Government Officials responsible for municipal and industrial wastewater collection and treatment programmes, storm water management and surface water quality and ecology management. The exhibition provides a unique podium to establish new partnership between end users and experts, government bodies, NGOs, water equipment and infrastructure companies from the water and wastewater industry.
BOOKING DETAILS
For more details call us +91 44 4291 6900 or write to us at info@watertoday.org