Leveraging Big Data Tools and Technologies: Addressing the Challenges of the Water Quality Sector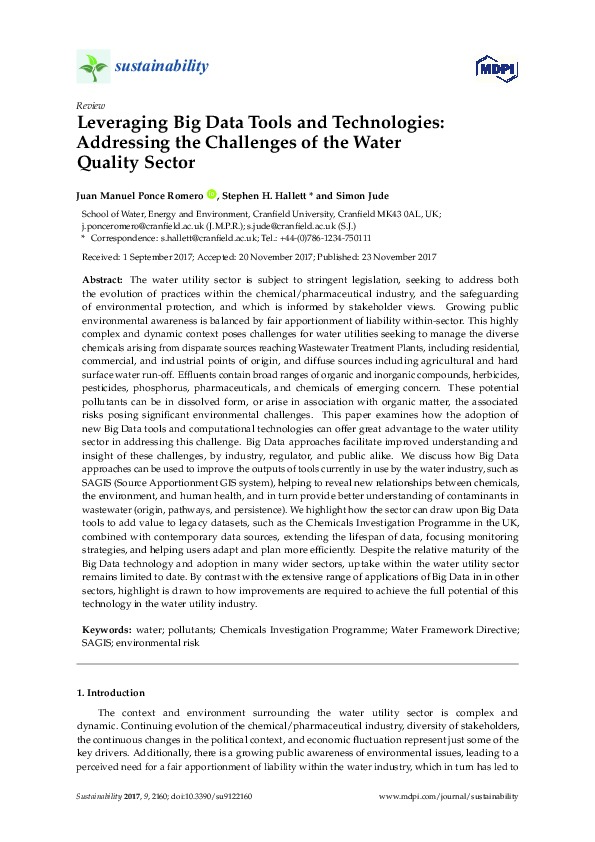 Leveraging Big Data Tools and Technologies: Addressing the Challenges of the Water Quality Sector
Juan Manuel Ponce Romero, Stephen H. Hallett and Simon Jude
Abstract
The water utility sector is subject to stringent legislation, seeking to address both the evolution of practices within the chemical/pharmaceutical industry, and the safeguarding of environmental protection, and which is informed by stakeholder views. Growing public environmental awareness is balanced by fair apportionment of liability within-sector. This highly complex and dynamic context poses challenges for water utilities seeking to manage the diverse chemicals arising from disparate sources reaching Wastewater Treatment Plants, including residential, commercial, and industrial points of origin, and diffuse sources including agricultural and hard surface water run-off.
Effluents contain broad ranges of organic and inorganic compounds, herbicides, pesticides, phosphorus, pharmaceuticals, and chemicals of emerging concern. These potential pollutants can be in dissolved form, or arise in association with organic matter, the associated risks posing significant environmental challenges. This paper examines how the adoption of new Big Data tools and computational technologies can offer great advantage to the water utility sector in addressing this challenge.
Big Data approaches facilitate improved understanding and insight of these challenges, by industry, regulator, and public alike. We discuss how Big Data approaches can be used to improve the outputs of tools currently in use by the water industry, such as SAGIS (Source Apportionment GIS system), helping to reveal new relationships between chemicals, the environment, and human health, and in turn provide better understanding of contaminants in wastewater (origin, pathways, and persistence). We highlight how the sector can draw upon Big Data tools to add value to legacy datasets, such as the Chemicals Investigation Programme in the UK, combined with contemporary data sources, extending the lifespan of data, focusing monitoring strategies, and helping users adapt and plan more efficiently.
Despite the relative maturity of the Big Data technology and adoption in many wider sectors, uptake within the water utility sector remains limited to date. By contrast with the extensive range of applications of Big Data in in other sectors, highlight is drawn to how improvements are required to achieve the full potential of this technology in the water utility industry.
Keywords : water; pollutants; Chemicals Investigation Programme; Water Framework Directive; SAGIS; environmental risk
Sustainability 2017 , 9 (12), 2160; https://doi.org/10.3390/su9122160
Ponce Romero, J.M.; Hallett, S.H.; Jude, S. Leveraging Big Data Tools and Technologies: Addressing the Challenges of the Water Quality Sector. Sustainability 2017 , 9 , 2160.
Source: MDPI