Leveraging Sustainable Irrigated Agriculture via Desalination - Case Study from Israel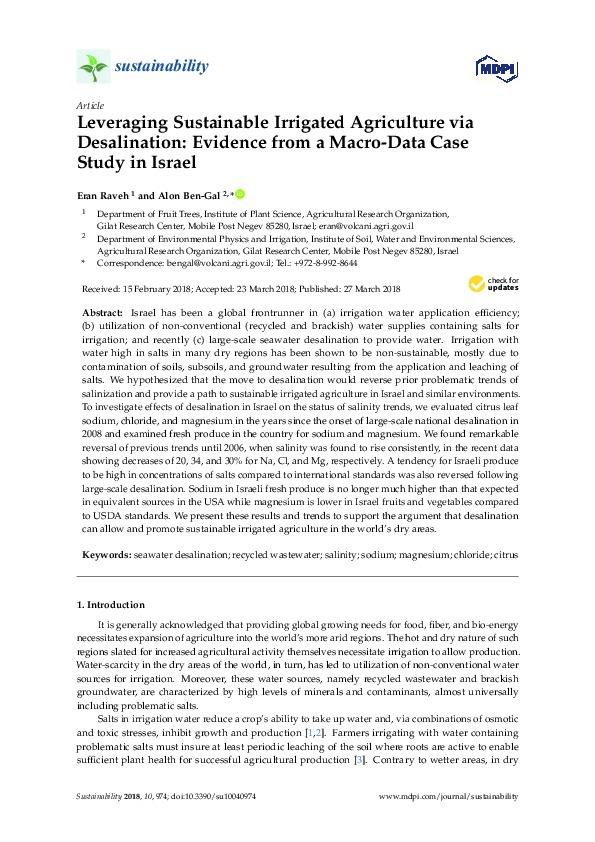 Leveraging Sustainable Irrigated Agriculture via Desalination: Evidence from a Macro-Data Case Study in Israel
Eran Raveh and Alon Ben-Gal
Abstract
Israel has been a global frontrunner in (a) irrigation water application efficiency; (b) utilization of non-conventional (recycled and brackish) water supplies containing salts for irrigation; and recently (c) large-scale seawater desalination to provide water. Irrigation with water high in salts in many dry regions has been shown to be non-sustainable, mostly due to contamination of soils, subsoils, and groundwater resulting from the application and leaching of salts.
We hypothesized that the move to desalination would reverse prior problematic trends of salinization and provide a path to sustainable irrigated agriculture in Israel and similar environments. To investigate effects of desalination in Israel on the status of salinity trends, we evaluated citrus leaf sodium, chloride, and magnesium in the years since the onset of large-scale national desalination in 2008 and examined fresh produce in the country for sodium and magnesium.
We found remarkable reversal of previous trends until 2006, when salinity was found to rise consistently, in the recent data showing decreases of 20, 34, and 30% for Na, Cl, and Mg, respectively. A tendency for Israeli produce to be high in concentrations of salts compared to international standards was also reversed following large-scale desalination. Sodium in Israeli fresh produce is no longer much higher than that expected in equivalent sources in the USA while magnesium is lower in Israel fruits and vegetables compared to USDA standards. We present these results and trends to support the argument that desalination can allow and promote sustainable irrigated agriculture in the world's dry areas.
Keywords : seawater desalination; recycled wastewater; salinity; sodium; magnesium; chloride; citrus
Sustainability 2018, 10(4), 974; https://doi.org/10.3390/su10040974
Raveh, E.; Ben-Gal, A. Leveraging Sustainable Irrigated Agriculture via Desalination: Evidence from a Macro-Data Case Study in Israel. Sustainability 2018, 10, 974.
Source: MDPI