Marine and Coastal Impacts of Ocean Desalination in California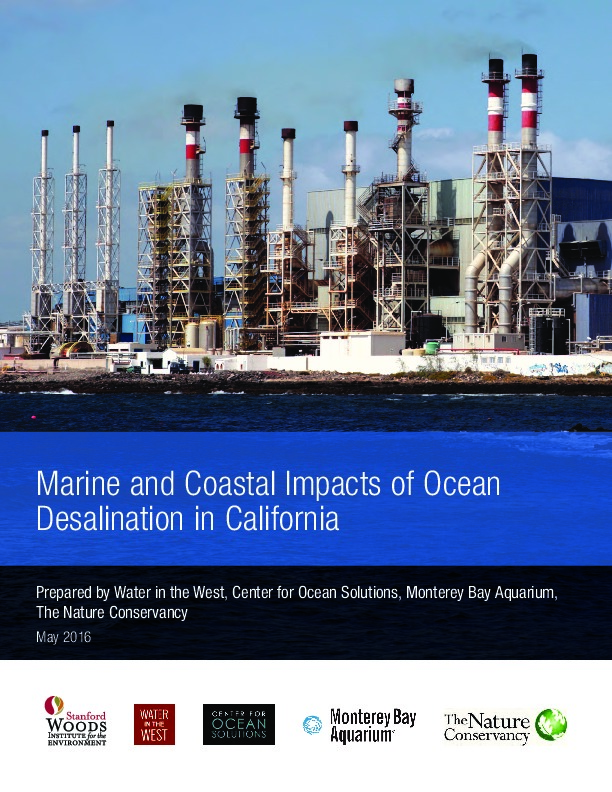 If poorly sited and designed, ocean desalination can have major undesirable impacts on marine ecosystems, nearshore habitats and coastal communities. Moreover, regardless of how well they are designed, all desalination facilities currently consume a great deal of energy and have the potential to increase greenhouse gas emissions.
In January 2016, the Stanford Woods Institute for the Environment, through its Water in the West Program and the Center for Ocean Solutions, collaborated with the Nature Conservancy and the Monterey Bay Aquarium to organize and facilitate an "uncommon dialogue" on the coastal and marine impacts of ocean desalination among leading experts from nongovernmental organizations, private industry, government agencies and academia.
The dialogue had two primary objectives: 1) to promote information exchange and open discussion regarding the best available science, technology and policy related to marine and coastal impacts of desalination projects in California and beyond; and 2) to identify key issues and knowledge gaps for future research and policy development with respect to marine and coastal impacts of ocean desalination in California.
To accomplish these objectives, the dialogue was split into four sessions: (1) Scope of Desalination and Current Regulatory Framework in California, (2) Seawater Intakes, (3) Brine Disposal, and (4) Facility Siting and Community Impacts. This report synthesizes and summarizes the proceedings and conclusions of that dialogue.
Prepared by Water in the West, Center for Ocean Solutions, Monterey Bay Aquarium, The Nature Conservancy