Modified Septic Tank: Innovative Onsite Wastewater Treatment System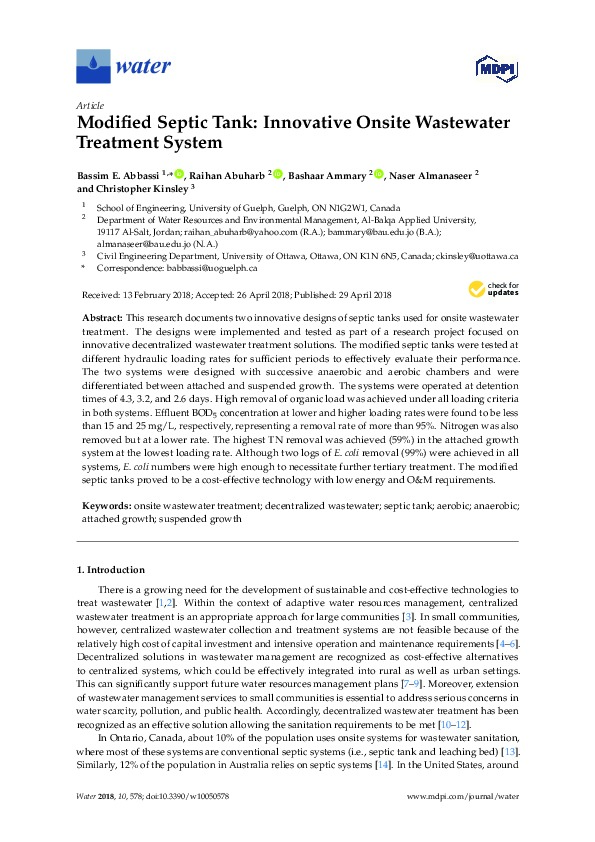 Modified Septic Tank: Innovative Onsite Wastewater Treatment System
Bassim E. Abbassi, Raihan Abuharb, Bashaar Ammary, Naser Almanaseer and Christopher Kinsley
Abstract
This research documents two innovative designs of septic tanks used for onsite wastewater treatment. The designs were implemented and tested as part of a research project focused on innovative decentralized wastewater treatment solutions. The modified septic tanks were tested at different hydraulic loading rates for sufficient periods to effectively evaluate their performance. The two systems were designed with successive anaerobic and aerobic chambers and were differentiated between attached and suspended growth.
The systems were operated at detention times of 4.3, 3.2, and 2.6 days. High removal of organic load was achieved under all loading criteria in both systems. Effluent BOD5 concentration at lower and higher loading rates were found to be less than 15 and 25 mg/L, respectively, representing a removal rate of more than 95%. Nitrogen was also removed but at a lower rate. The highest TN removal was achieved (59%) in the attached growth system at the lowest loading rate.
Although two logs of E. coli removal (99%) were achieved in all systems, E. coli numbers were high enough to necessitate further tertiary treatment. The modified septic tanks proved to be a cost-effective technology with low energy and O&M requirements.
Keywords : onsite wastewater treatment; decentralized wastewater; septic tank; aerobic; anaerobic; attached growth; suspended growth
Water 2018 , 10 (5), 578; https://doi.org/10.3390/w10050578
Abbassi, B.E.; Abuharb, R.; Ammary, B.; Almanaseer, N.; Kinsley, C. Modified Septic Tank: Innovative Onsite Wastewater Treatment System. Water 2018 , 10 , 578.
Source: MDPI