Nanopesticides and Nanofertilizers: Emerging Contaminants or Opportunities for Risk Mitigation?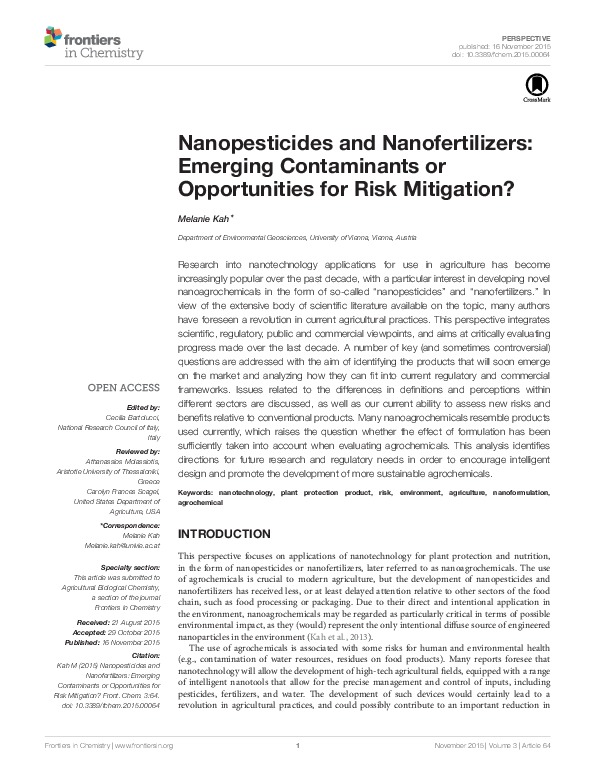 Research into nanotechnology applications for use in agriculture has become increasingly popular over the past decade, with a particular interest in developing novel nanoagrochemicals in the form of so-called " nanopesticides" and " nanofertilizers."
In view of the extensive body of scientific literature available on the topic, many authors have foreseen a revolution in current agricultural practices. This perspective integrates scientific, regulatory, public and commercial viewpoints, and aims at critically evaluating progress made over the last decade.
A number of key (and sometimes controversial) questions are addressed with the aim of identifying the products that will soon emerge on the market and analyzing how they can fit into current regulatory and commercial frameworks. Issues related to the differences in definitions and perceptions within different sectors are discussed, as well as our current ability to assess new risks and benefits relative to conventional products.
Many nanoagrochemicals resemble products used currently, which raises the question whether the effect of formulation has been sufficiently taken into account when evaluating agrochemicals. This analysis identifies directions for future research and regulatory needs in order to encourage intelligent design and promote the development of more sustainable agrochemicals.
Melanie Kah
Department of Environmental Geosciences, University of Vienna, Vienna, Austria
Keywords: nanotechnology, plant protection product, risk, environment, agriculture, nanoformulation, agrochemical