New and Emerging Capital Providers for Infrastructure Funding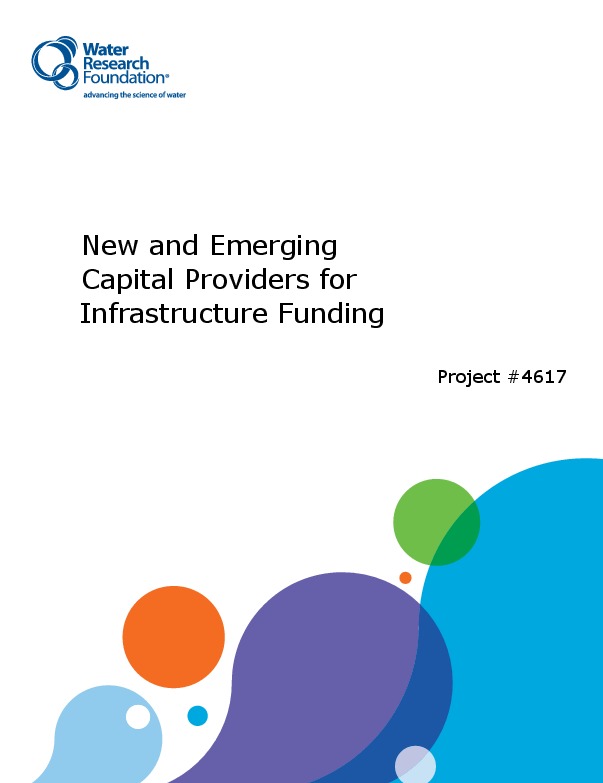 The Water Research Foundation is a nonprofit corporation dedicated to the development and implementation of scientifically sound research designed to help drinking water utilities respond to regulatory requirements and address high-priority concerns.
WRF's research agenda is developed through a process of consultation with WRF subscribers and other drinking water professionals. WRF's Board of Directors and other professional volunteers help prioritize and select research projects for funding based upon current and future industry needs, applicability, and past work.
WRF sponsors research projects through the Focus Area, Emerging Opportunities, and Tailored Collaboration programs, as well as various joint research efforts with organizations such as the U.S. Environmental Protection Agency and the U.S. Bureau of Reclamation. This publication is a result of a research project fully funded or funded in part by WRF subscribers. WRF's subscription program provides a cost-effective and collaborative method for funding research in the public interest.
The research investment that underpins this report will intrinsically increase in value as the findings are applied in communities throughout the world. WRF research projects are managed closely from their inception to the final report by the staff and a large cadre of volunteers who willingly contribute their time and expertise. WRF provides planning, management, and technical oversight and awards contracts to other institutions such as water utilities, universities, and engineering firms to conduct the research.
A broad spectrum of water supply issues is addressed by WRF's research agenda, including resources, treatment and operations, distribution and storage, water quality and analysis, toxicology, economics, and management.
The ultimate purpose of the coordinated effort is to assist water suppliers to provide a reliable supply of safe and affordable drinking water to consumers. The true benefits of WRF's research are realized when the results are implemented at the utility level. WRF's staff and Board of Directors are pleased to offer this publication as a contribution toward that end.
Source: Water Research Foundation