Physical Security of Water-Wastewater Infrastructure – Planning and Equipment Selection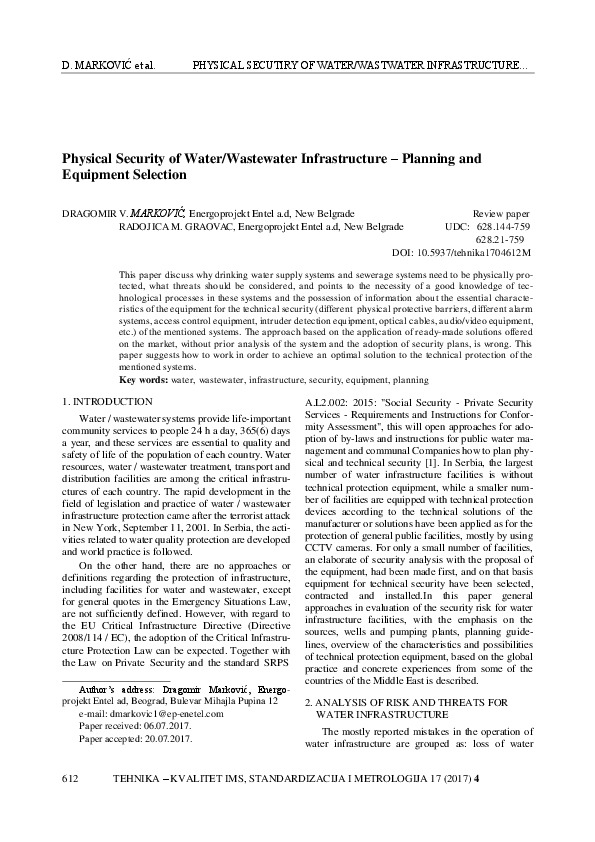 Physical Security of Water/Wastewater Infrastructure – Planning and Equipment Selection
Marković Dragomir V., Graovac Radojica M.
Abstract
This paper discuss why drinking water supply systems and sewerage systems need to be physically protected, what threats should be considered, and points to the necessity of a good knowledge of technological processes in these systems and the possession of information about the essential characteristics of the equipment for the technical security (different physical protective barriers, different alarm systems, access control equipment, intruder detection equipment, optical cables, audio/video equipment, etc.) of the mentioned systems.
The approach based on the application of ready-made solutions offered on the market, without prior analysis of the system and the adoption of security plans, is wrong. This paper suggests how to work in order to achieve an optimal solution to the technical protection of the
mentioned systems.
Keywords : water, wastewater, infrastructure, security, equipment, planning
Tehnika
2017, vol. 72, iss. 4, pp. 612-616
DOI: 10.5937/tehnika1704612M
Source: SCIndeks
Attribution 4.0 International (CC BY 4.0)