Risk ​Assessment and ​Control for ​Main Hazards in ​Reverse Osmosis ​Desalination ​Plants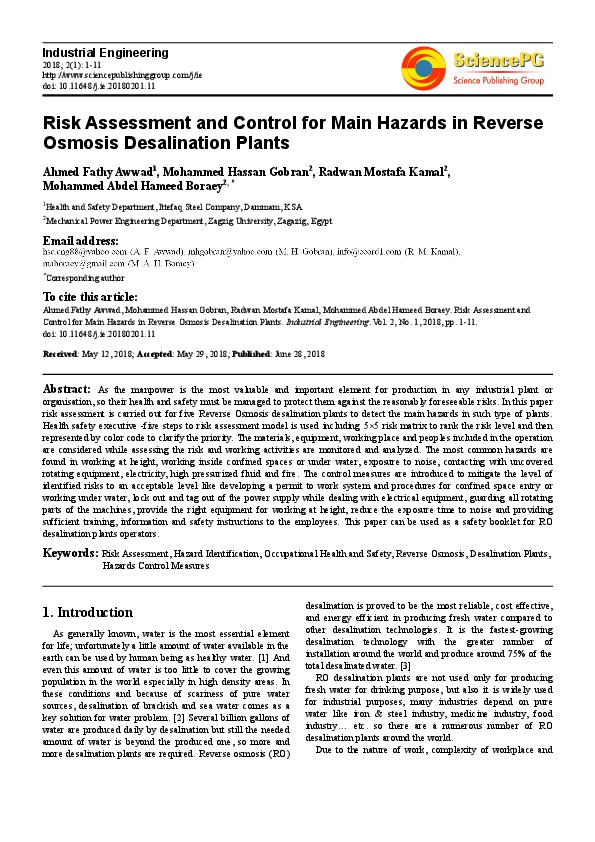 Risk Assessment and Control for Main Hazards in Reverse Osmosis Desalination Plants
Ahmed Fathy Awwad, Mohammed Hassan Gobran, Radwan Mostafa Kamal, Mohammed Abdel Hameed Boraey
Industrial Engineering
Volume 2, Issue 1, June 2018, Pages: 1-11
Abstract :
As the manpower is the most valuable and important element for production in any industrial plant or organisation, so their health and safety must be managed to protect them against the reasonably foreseeable risks. In this paper risk assessment is carried out for five Reverse Osmosis desalination plants to detect the main hazards in such type of plants. Health safety executive -five steps to risk assessment model is used including 5×5 risk matrix to rank the risk level and then represented by color code to clarify the priority.
The materials, equipment, working place and peoples included in the operation are considered while assessing the risk and working activities are monitored and analyzed. The most common hazards are found in working at height, working inside confined spaces or under water, exposure to noise, contacting with uncovered rotating equipment, electricity, high pressurized fluid and fire.
The control measures are introduced to mitigate the level of identified risks to an acceptable level like developing a permit to work system and procedures for confined space entry or working under water, lock out and tag out of the power supply while dealing with electrical equipment, guarding all rotating parts of the machines, provide the right equipment for working at height, reduce the exposure time to noise and providing sufficient training, information and safety instructions to the employees.
This paper can be used as a safety booklet for RO desalination plants operators
Ahmed Fathy Awwad, Mohammed Hassan Gobran, Radwan Mostafa Kamal, Mohammed Abdel Hameed Boraey. Risk Assessment and Control for Main Hazards in Reverse Osmosis Desalination Plants. Industrial Engineering. Vol. 2, No. 1, 2018, pp. 1-11. doi: 10.11648/j.ie.20180201.11
Source: Science PG