Science and Technology to Ensure the Safety of the Nation's Drinking Water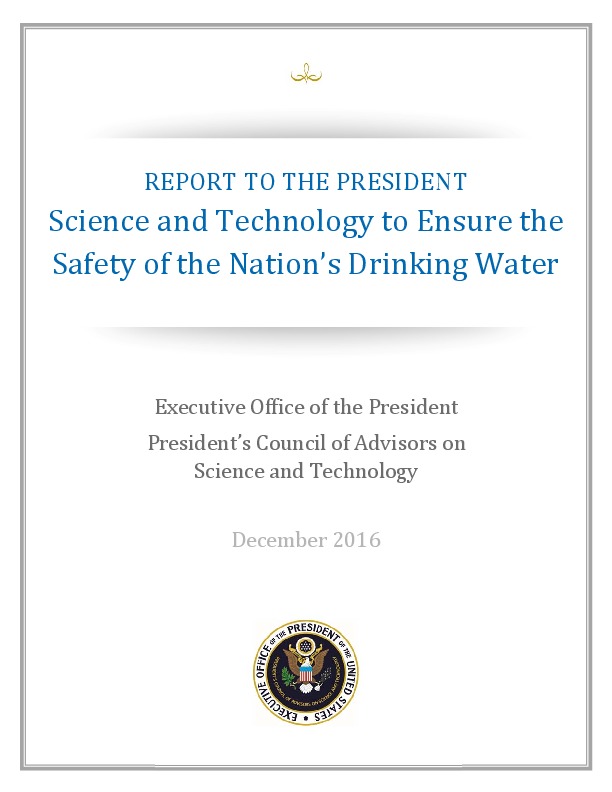 REPORT TO THE PRESIDENT - Science and Technology to Ensure the Safety of the Nation's Drinking Water
Americans have come to expect access to safe and affordable drinking water as a fundamental right and integral part of sustaining public health. And, indeed, public drinking‐water systems in the United States provide safe, high‐quality drinking water most of the time in most places.
But public confidence regarding the quality of their drinking water has been shaken lately by a series of high‐visibility crises that have resulted in temporary drinking‐water‐system closures and do‐not‐use advisories. These high‐ profile crises highlight the long‐term, national challenges to maintaining high‐quality drinking water, resulting particularly from continuing and legacy pollution of source waters and an aging infrastructure that is in need of significant repair and modernization.
As part of the Administration's response to concerns about the safety of the Nation's drinking water, underscored by the revelations about lead in tap water in Flint, Michigan, President Obama asked his President's Council of Advisors on Science and Technology (PCAST), in March 2016, how science and technology (S&T) could more effectively be brought to bear on the challenge of ensuring the safety of the Nation's drinking water.
PCAST was not asked to address non‐S&T dimensions of the provision of safe drinking water, such as Federal‐State‐local responsibilities and interactions, management issues (unless directly related to advancing S&T opportunities), and financing of drinking‐water infrastructure, nor was it asked to address safety of bottled water.
Following preliminary exploration of the S&T issues around safe drinking water, PCAST organized a day‐ long national workshop of drinking‐water experts from Federal agencies, public water systems, academia, the medical community, and civil society to help shape the inquiry.
A working group reflecƟng that diversity of experƟse was then consƟtuted―comprising six members of PCAST and seven of the outside experts who participated in the workshop—to conduct the study. The findings and recommendations reported here have been reviewed and approved by the full PCAST and are the responsibility of PCAST alone.
In the remainder of this Executive Summary, we provide a brief overview of characteristics of the national drinking‐water system and the challenges it presents, turning finally to a set of key findings and recommendations that follow from them.
Source: White House