Socio-hydrological Assessment of Water Security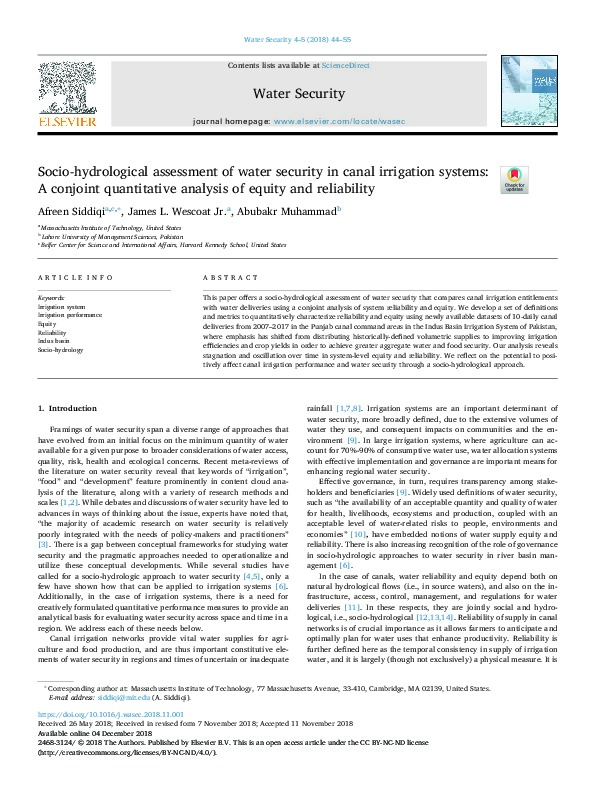 Socio-hydrological assessment of water security in canal irrigation systems: A conjoint quantitative analysis of equity and reliability
Afreen Siddiqi, James L. Wescoat Jr. and Abubakr Muhammad
Abstract
This paper offers a socio-hydrological assessment of water security that compares canal irrigation entitlements with water deliveries using a conjoint analysis of system reliability and equity. We develop a set of definitions and metrics to quantitatively characterize reliability and equity using newly available datasets of 10-daily canal deliveries from 2007–2017 in the Punjab canal command areas in the Indus Basin Irrigation System of Pakistan, where emphasis has shifted from distributing historically-defined volumetric supplies to improving irrigation efficiencies and crop yields in order to achieve greater aggregate water and food security. Our analysis reveals stagnation and oscillation over time in system-level equity and reliability. We reflect on the potential to positively affect canal irrigation performance and water security through a socio-hydrological approach.
Highlights
Reliability and equity need conjoint socio-hydrologic analysis to improve water security.
Median reliability of canals in Punjab was 56–97% in summer and 32–96% in winter.
Irrigation system equity was worse in winter on average by 26% as compared to summer.
Equity and reliability of canals was stagnant and oscillatory during 2007–2017.
Canal system water security can be increased with improved forecasting and management.
Water Security, August–December 2018, DOI: https://doi.org/10.1016/j.wasec.2018.11.001
Source: Science Direct