Sugarcane Biorefineries Wastewater: Bioremediation Technologies for Environmental Sustainability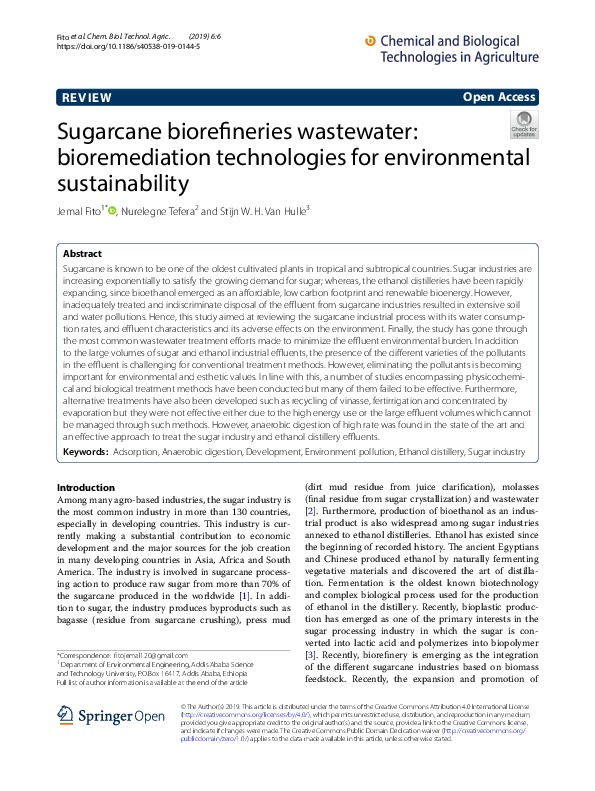 Sugarcane Biorefineries Wastewater: Bioremediation Technologies for Environmental Sustainability
Jemal Fito, Nurelegne Tefera, Stijn W. H. Van Hulle
Abstract:
Sugarcane is known to be one of the oldest cultivated plants in tropical and subtropical countries. Sugar industries are increasing exponentially to satisfy the growing demand for sugar; whereas, the ethanol distilleries have been rapidly expanding, since bioethanol emerged as an affordable, low carbon footprint and renewable bioenergy.
However, inadequately treated and indiscriminate disposal of the effluent from sugarcane industries resulted in extensive soil and water pollutions. Hence, this study aimed at reviewing the sugarcane industrial process with its water consumption rates, and effluent characteristics and its adverse effects on the environment. Finally, the study has gone through the most common wastewater treatment efforts made to minimize the effluent environmental burden. In addition to the large volumes of sugar and ethanol industrial effluents, the presence of the different varieties of the pollutants in the effluent is challenging for conventional treatment methods. However, eliminating the pollutants is becoming important for environmental and esthetic values. In line with this, a number of studies encompassing physicochemical and biological treatment methods have been conducted but many of them failed to be effective.
Furthermore, alternative treatments have also been developed such as recycling of vinasse, fertirrigation and concentrated by evaporation but they were not effective either due to the high energy use or the large effluent volumes which cannot be managed through such methods. However, anaerobic digestion of high rate was found in the state of the art and an effective approach to treat the sugar industry and ethanol distillery effluents.
Fito, J., Tefera, N. & Van Hulle, S.W.H. Chem. Biol. Technol. Agric. (2019) 6: 6. https://doi.org/ href="https://link.springer.com/article/10.1186%2Fs40538-019-0144-5">10.1186/s40538-019-0144-5
Source: Springer