The Unfavourable Impact of Street Traffic on Water Distribution Pipelines - Case Study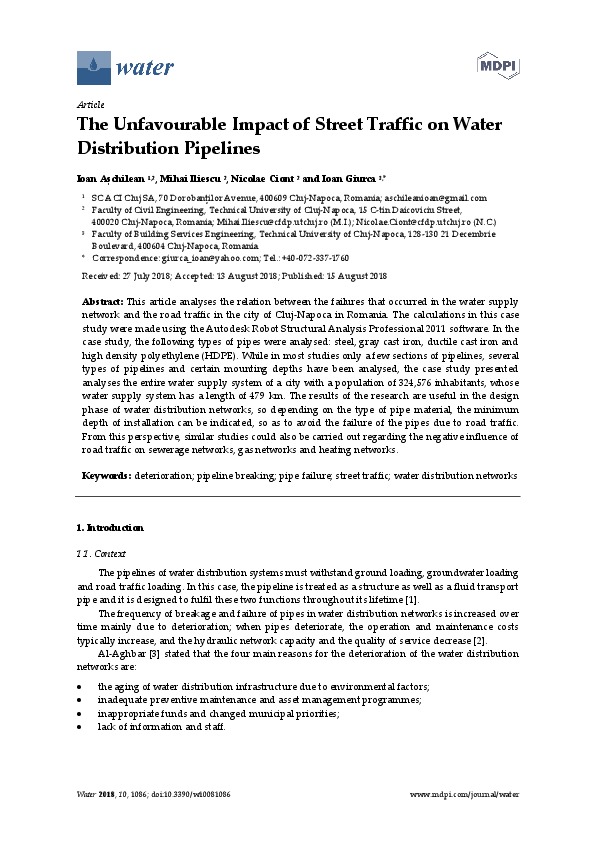 The Unfavourable Impact of Street Traffic on Water Distribution Pipelines
Ioan Așchilean, Mihai Iliescu, Nicolae Ciont and Ioan Giurca
Abstract
This article analyses the relation between the failures that occurred in the water supply network and the road traffic in the city of Cluj-Napoca in Romania. The calculations in this case study were made using the Autodesk Robot Structural Analysis Professional 2011 software.
In the case study, the following types of pipes were analysed: steel, gray cast iron, ductile cast iron and high density polyethylene (HDPE). While in most studies only a few sections of pipelines, several types of pipelines and certain mounting depths have been analysed, the case study presented analyses the entire water supply system of a city with a population of 324,576 inhabitants, whose water supply system has a length of 479 km.
The results of the research are useful in the design phase of water distribution networks, so depending on the type of pipe material, the minimum depth of installation can be indicated, so as to avoid the failure of the pipes due to road traffic. From this perspective, similar studies could also be carried out regarding the negative influence of road traffic on sewerage networks, gas networks and heating networks.
Keywords : deterioration; pipeline breaking; pipe failure; street traffic; water distribution networks
Water 2018 , 10 (8), 1086; https://doi.org/10.3390/w10081086 (registering DOI)
Așchilean, I.; Iliescu, M.; Ciont, N.; Giurca, I. The Unfavourable Impact of Street Traffic on Water Distribution Pipelines. Water 2018 , 10 , 1086.
Source: MDPI