The Water Footprint Assessment of Electricity Production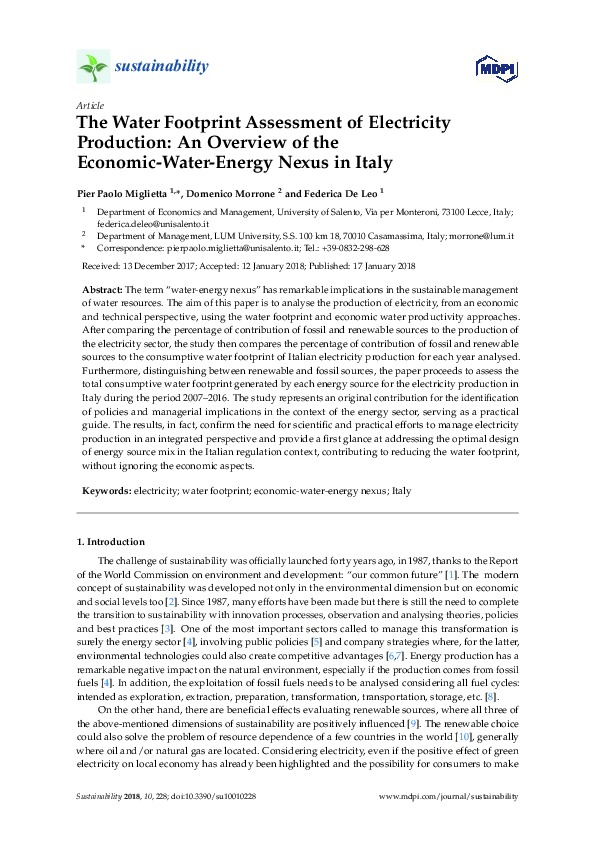 The Water Footprint Assessment of Electricity Production: An Overview of the Economic-Water-Energy Nexus in Italy
Pier Paolo Miglietta, Domenico Morrone and Federica De Leo
Abstract
The term "water-energy nexus" has remarkable implications in the sustainable management of water resources. The aim of this paper is to analyse the production of electricity, from an economic and technical perspective, using the water footprint and economic water productivity approaches. After comparing the percentage of contribution of fossil and renewable sources to the production of the electricity sector, the study then compares the percentage of contribution of fossil and renewable sources to the consumptive water footprint of Italian electricity production for each year analysed.
Furthermore, distinguishing between renewable and fossil sources, the paper proceeds to assess the total consumptive water footprint generated by each energy source for the electricity production in Italy during the period 2007–2016. The study represents an original contribution for the identification of policies and managerial implications in the context of the energy sector, serving as a practical guide. The results, in fact, confirm the need for scientific and practical efforts to manage electricity production in an integrated perspective and provide a first glance at addressing the optimal design of energy source mix in the Italian regulation context, contributing to reducing the water footprint, without ignoring the economic aspects.
Keywords: electricity; water footprint; economic-water-energy nexus; Italy
Miglietta, P.P.; Morrone, D.; De Leo, F. The Water Footprint Assessment of Electricity Production: An Overview of the Economic-Water-Energy Nexus in Italy. Sustainability 2018 , 10 , 228.
Source: MDPI