Wastewater ​Effluent as a ​Resource for ​Seawater ​Desalination ​Brine ​Commingling ​– Case ​Study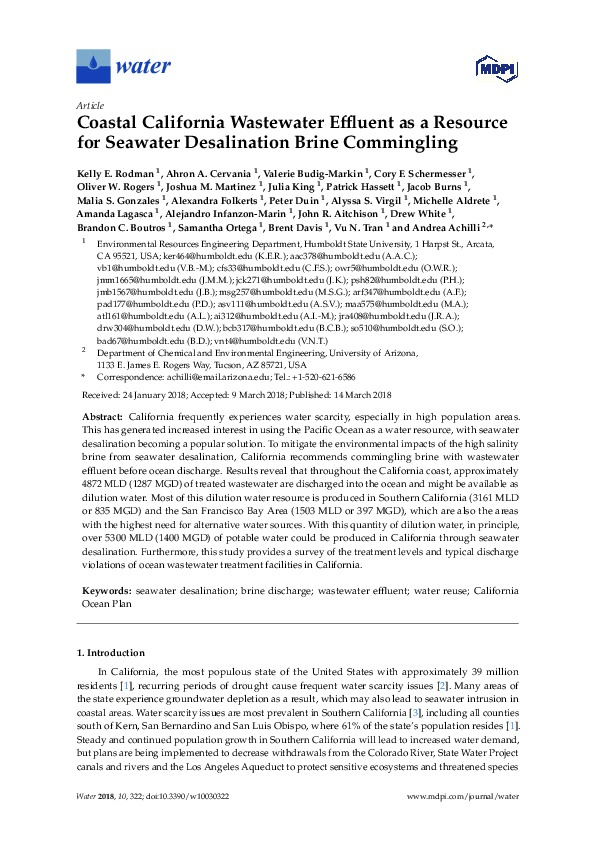 Coastal California Wastewater Effluent as a Resource for Seawater Desalination Brine Commingling
Kelly E. Rodman, Ahron A. Cervania, Valerie Budig-Markin, Cory F. Schermesser, Oliver W. Rogers, Joshua M. Martinez, Julia King, Patrick Hassett, Jacob Burns, Malia S. Gonzales, Alexandra Folkerts, Peter Duin, Alyssa S. Virgil, Michelle Aldrete, Amanda Lagasca, Alejandro Infanzon-Marin, John R. Aitchison, Drew White, Brandon C. Boutros, Samantha Ortega, Brent Davis, Vu N. Tran and Andrea Achilli
Abstract
California frequently experiences water scarcity, especially in high population areas. This has generated increased interest in using the Pacific Ocean as a water resource, with seawater desalination becoming a popular solution. To mitigate the environmental impacts of the high salinity brine from seawater desalination, California recommends commingling brine with wastewater effluent before ocean discharge.
Results reveal that throughout the California coast, approximately 4872 MLD (1287 MGD) of treated wastewater are discharged into the ocean and might be available as dilution water. Most of this dilution water resource is produced in Southern California (3161 MLD or 835 MGD) and the San Francisco Bay Area (1503 MLD or 397 MGD), which are also the areas with the highest need for alternative water sources.
With this quantity of dilution water, in principle, over 5300 MLD (1400 MGD) of potable water could be produced in California through seawater desalination. Furthermore, this study provides a survey of the treatment levels and typical discharge violations of ocean wastewater treatment facilities in California.
Keywords : seawater desalination; brine discharge; wastewater effluent; water reuse; California Ocean Plan
Water 2018 , 10 (3), 322; https://doi.org/10.3390/w10030322
Rodman, K.E.; Cervania, A.A.; Budig-Markin, V.; Schermesser, C.F.; Rogers, O.W.; Martinez, J.M.; King, J.; Hassett, P.; Burns, J.; Gonzales, M.S.; Folkerts, A.; Duin, P.; Virgil, A.S.; Aldrete, M.; Lagasca, A.; Infanzon-Marin, A.; Aitchison, J.R.; White, D.; Boutros, B.C.; Ortega, S.; Davis, B.; Tran, V.N.; Achilli, A. Coastal California Wastewater Effluent as a Resource for Seawater Desalination Brine Commingling. Water 2018 , 10 , 322.
Source: MDPI