Zero Discharge Waste Brine Management for Desalination Plants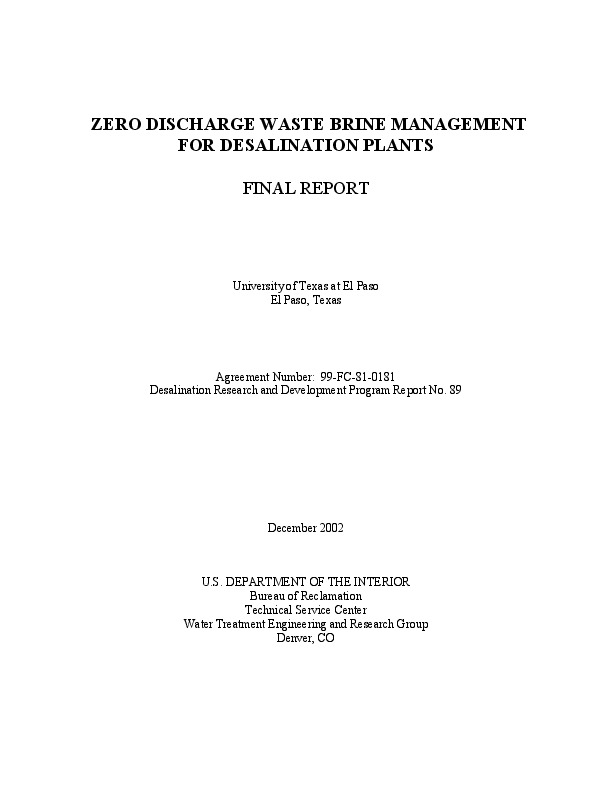 EXECUTIVE SUMMARY
Limited fresh water supplies represent a serious constraint to the development and continued viability of inland communities in states of the arid Southwestern United States. In many of these communities, there are abundant supplies of brackish groundwater that can be utilized if appropriate methods of desalination and brine concentrate management or disposal can be developed.
This project addresses these issues by examining a systems approach for desalination/brine management, using a Salinity Gradient Solar Pond (SGSP), coupled with a Brine Concentrator and Recovery System (BCRS). This project involved comprehensive testing and analysis of a BCRS that was reconstructed and modified from a brine concentrator.
The BCRS was tested over a broad range of operational conditions, with the thermal energy derived from a SGSP. The relationship between system performance and operating conditions was analyzed to determine the economic and technical viability of the BCRS technology.
Mathematical and computer models have been developed to describe the physical behavior of the BCRS and to predict its performance. This research provides useful data and information for developing zero discharge waste brine management for desalting plants. These data and information are also useful for improving the design of a BCRS, which is driven by low- or medium-temperature heat sources.
Source: Bureau of Reclamation