12th Urban Drainage Modeling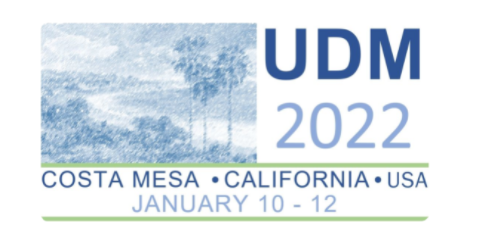 Greetings from the organizers of the Urban Drainage Modeling Conference! The UDM conference series started in 1986 in Dubrovnik, former Yugoslavia. The second edition of UDM was organized in 1991 also in Dubrovnik. After the first two editions in Dubrovnik, the conference has travelled across the globe to the River Volga (1994), London (1998), Orlando (2001), Dresden (2004), Melbourne (2006), Tokyo (2009), Belgrade (2012), Québec (2015), and Palermo (2018).
The UDM Conference seeks to create a forum for deep discussion and exchange of ideas amongst technical experts including engineers, scientists, professionals and academics. The UDM Conference brings focus to the data and models needed to develop better understanding and advance the management of the urban drainage system (e.g., water quality and quantity, urban flooding and modelling, urban flood forecasting and risk analysis, modelling tools, data etc.).
The 12th UDM conference is currently anticipated as a combination of online and in-person activities. For those that can make it in person, we will gather in Costa Mesa, California. The committee will update the community as new information on travel and in-person opportunities becomes available.
We are calling for abstracts (due August 20th, 2021) on topics including:
Machine learning processes and protocols
Managing non-stormwater urban runoff including dry-weather diversions, irrigation-induced runoff, and others
Data collection to support modeling development, calibration, and validation
Understanding of management and mitigation (BMPs, SCMs, WSUDs, SUDs, LID, GI, etc.)
Coastal hydrologic and hydraulic processes related to urban drainage and runoff
Hydrology and rainfall in urban areas
Extreme events: wildfires, droughts, and deluges (& their impacts on urban drainage management)
Coupled integrated modeling: surface-subsurface hydrology, infiltration management systems-groundwater interactions, etc
Real-time control, analytics, and software integration
Modelling interactions and integrated systems
Transport and sewer processes of microconstituents and pathogens
Predicting receiving water quality with climate change
Water security
Data standards for UDM applications
The program will include keynote, plenary, and technical sessions. Best Student Presentation and Young Researcher Awards will be recognized. Selected papers will be considered for special issue and special collection journals.
We can't wait to welcome you, both in-person and virtually, to UDM2022!
Elizabeth Fassman-Beck, Ph.D., Conference Chair
&
Scott Struck, Ph.D., Technical Chair