2014 AWRA Annual Conference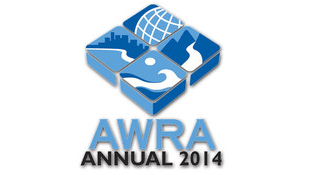 The National Capital Region section would like to welcome you to the 2014 AWRA Annual Conference , in celebration of 50-years of AWRA. The Nation's capital, Washington, DC, serves as the backdrop for this year's conference. We have planned an exciting week filled with presentations on the latest water resources topics, and providing opportunities for networking and building our professional community. Please join us for an engaging week of water dialogue with fellow water resource movers and shakers from throughout the country.
The 2014 conference marks AWRA's 50th anniversary. On this auspicious occasion, it is timely to reflect on the state of water resources management in the United States: What was the state of water management when AWRA was formed? How has water management evolved as AWRA has matured into a premier water resources organization? What challenges and opportunities lay ahead for water management, for AWRA, and the water resources profession? This conference provides a unique opportunity for myriad water resource professionals to gather and reflect on the history of water management over the past 50 years and to see the latest work on the policy and science of water management that will help shape the future.
Our technical program begins Monday, November 3, 2014, with an outstanding plenary session in two parts, first with a keynote address, followed by a high-impact plenary panel, then continues with 80+ concurrent technical sessions on a wide range of water resources research, policy, management, education, and technical topics, including special tracks for AWRA at 50, Climate Change, Dynamic Reservoir Operations, Flood Management, Green Infrastructure, International Water, Management Tools, Open Water Data, Social Science and Emerging Contaminants, Water Quality, and Watershed Protection Modeling . Our local topics tracks provide an opportunity for Mid-Atlantic water resource professionals to tell you about the Delaware River, Potomac River, Chesapeake Bay, and Interstate Compact experiences. This is a perfect opportunity for practitioners and policy makers across the spectrum of the water resources community to share their experiences, learn from one another, and share their outlooks on and visions for the future. There also will be a special celebration commemorating AWRA's 50 years during the conference awards luncheon.
In between the technical presentations, you'll have several opportunities to interact with presenters and other attendees, including the opening reception Monday evening. We also have a special AWRA 50th Anniversary event at the AWRA Awards Luncheon on Wednesday. Monday and Tuesday, the Exhibit Hall will showcase companies with products, services, and information water resources professionals need. It also hosts the poster session and displays from our conference sponsors; we encourage all participants visit this area during the networking breaks and the opening reception and take advantage of all this room has to offer.
AWRA conferences provide unique opportunities for students to present their work and learn about professional opportunities. This year, AWRA continues the ever popular student career night on Wednesday, with a panel presentation and Q&A session with professionals from multiple disciplines and backgrounds, followed by a speed-networking session where students can interact with numerous professionals in a brief, yet focused setting.
Please join us in the Nation's Capital to take advantage of everything AWRA has to offer- several days of community, conversation, and connections that will benefit all water resource professionals.
Whether you come as a sponsor, exhibitor, presenter, attendee or all four…come one, come all, and join us for what promises to be an illuminary gathering in the Nation's capital!