2014 Canada Water Resources Congress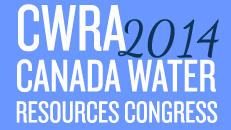 CWRA National Conference and 67th Annual Meeting . A Conference with a vision for the future of water management which is a must attend for policy-makers, practitioners, corporate and venture capital investors, utilities, engineering consultancies and technology companies involved in water, as we all are!
Water: What is the Future We Want? Be involved in its definition and solutions!
Our Environmental, Socioeconomic and Political Agendas Themes:
Water in Cities
Water & Food Nexus
Water & the Environment Nexus
Water & Energy Nexus