2014 Water Microbiology Conference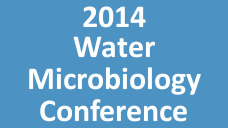 The 2014 Water Microbiology Conference creates a forum for researchers and practitioners focused on microbiology and public health issues to come together around the intersection of the two.
The Conference will blend interactive workshops with scientific symposia and poster socials. The focus will be on water microbiology from watershed to human exposure including current concerns in recreational waters, shellfish harvesting waters, emerging technologies and quantitative tools.
Main Conference Themes
Sources
Exposure
Analytical Methods
Management and Treatment
While the 2014 Water Microbiology Conference has four main themes, a wide range of topics will be covered throughout the conference.
The Conference will offer participants a variety of opportunities to exchange ideas, debate challenging topics and explore potential collaborations. This is the first of what is expected to become an annual event for the water microbiology community.
The 2014 Water Microbiology Conference is under the direction of an International Advisory Committee led by Dr. Al Dufour, Senior Research Microbiologist at US EPA, and an Internal Management Committee led by Dr. Mark Sobsey, Kenan Distinguished Professor, Gillings School of Global Public Health.