3rd Annual Advanced Hydropower Generation and Pumped Storage Forum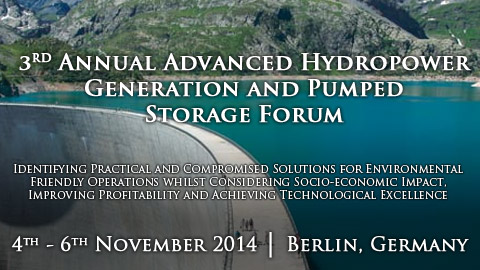 This exclusive BIS forum will showcase analytical insights into how industry leaders are optimizing their performance by understanding the latest developments in plant optimization , successfully upgrading, using right strategies to hit targets and being fully aware of the latest regulations issues. With a two day intimate forum followed by half a day workshop, joining together key industry professionals to discuss, brainstorm, share experience and partake in exclusive networking sessions in an flexible and dynamic platform - together shaping the future of the market.
Rising electricity prices and the increasing pressure to hit the EU's renewable targets by 2020 has made hydropower a very attractive source of energy production. However difficulties in obtaining a license for hydropower projects, uncertainty surrounding the legislative framework and significant initial investment and a long-payback period means hydropower has not been utilized to its full potential.
This forum will provide a clear picture of the legislative framework and help identify the current role of hydropower in Europe. The forum will provide solutions and strategies on how to best build alliances among hydro professionals and water resource stakeholders.
The conference will help ascertain new system of integration, efficiency and flexibility, prospective of Small Hydropower Development , improvement of Pumped Storage Plants (PSP), new techniques and technology, environmental issues, legislation and hydropower balancing.
Building up on success and experience of past Hydropower Generation conferences, this 3rdAnnual BIS GROUP event will help to address participants' doubts about the pump storage potential and the future of hydropower including environmental and market design.