3rd Annual Smart Water Systems Conference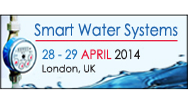 The demand for water is ever increasing due to growing population, climate change and cost of water. The ageing infrastructure of the water systems coupled with the increasing demand is adding pressure to the water networks . As the water infrastructure age, many problems crop in in terms of water leakage, water contamination, inability to detect water quality and so forth. One of the ways to address these problems is by creating a smart water system. Smart water systems involves the use of smart water meters together with the latest technologies and real time data to better monitor water usage, distribution and problems such as leakage. This also enables to tract the water network and pinpoint problem areas.
The SMi Group is proud to present its 3rd Annual Smart Water Systems Conference which will be looking into this topic and how smart water is all about coming up with initiatives to manage water more effectively, monitor it all the way along throughout the cycle so that we canbetter manage and preserve thisprecious resource.