4th International Forum of Clean Technologies in Ukraine and the CIS countries, ECOSMART-2014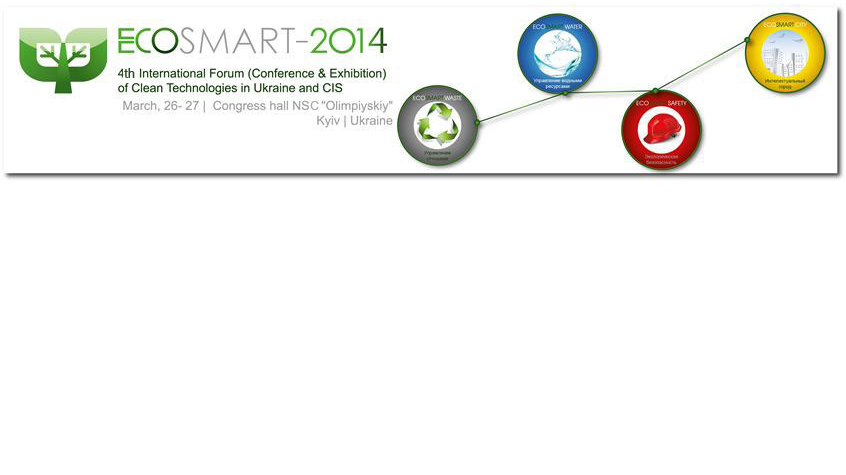 Over the past years ECOSMART-2014 has established itself as the only business forum in Ukraine , covering key issues in the areas of waste management and recycling, water supply and sewage system at municipal and industrial enterprises, environmental and industrial safety. The forum gathers chief executives of organizations and companies supplying technologies and solutions in the environmental sector, as well as top managers, chief engineers, development directors of industrial and municipal enterprises.
Organizer of ECOSMART-2014 is the Innovative Business Centre (IBCentre) with the official support of the Ministry of Ecology and Natural Resources of Ukraine, as well as in partnership with leading international organizations, including the EWA (European Water Association) and ISWA (International Solid Waste Association).
Main directions of business conferences and exhibitions within the forum ECOSMART-2014:
• ECOSMART WASTE-2014: Waste management and recycling at the industrial and municipal sectors
• ECOSMART WATER-2014: Water management at the industrial and municipal enterprises
• ECOSMART SAFETY-2014: Environmental and industrial safety
• ECOSMART CITY-2014: New technologies and innovation for Ukrainian cities.
Please note that for first time topic of environmental and industrial safety is allocated into a separate practical conference.
Delegates of ECOSMART-2014 will have an opportunity to participate in:
• intensive business program
• focused conferences, collecting all the leading players in each of the segments
• 2 day of B2B Exhibition, which represents only industry participants
• online business schedule planning program and participation in the business matchmaking, which became one of the strong points of industrial developments of IBCentre.
What is the value of the Forum?
This is a real market profile of the clean technologies, as well as the situation in the sector of industrial ecology and safety of Ukraine.
exclusively business and practical orientation of the Forum

real projects, lively discussions, discussing and presentations in the field of environmental industry, which only professional business platform can give.

No SPAM. At ECOSMART you will never find nontarget audience. And we are proud of it. We appreciate your time and attention and create only decent environment.

exploring the markets of innovation and clean technologies over the past seven years, we can easily estimate the real picture of each segment.

in 2014 all participants of the forum will have an extra bonus: the results of IBCentre research at the clean technology area
Take advantage of opportunities and benefits offered by the early registration and booking booths at ECOSMART-2014!
SPECIAL OFFER: Do not miss additional New Year discounts which are available till January, 2014 http://rencentre.com/wp-content/uploads/2013/12/Special-offer-IBCentre.pdf
We invite you to become one of the partners of the forum, as well as take advantage of unique marketing opportunities at ECOSMART-2014.
Official website: www.ecosmart-ua.com
Regarding program and partnerships issues at ECOSMART-2014:
Julia Kozlova
july.kozlova@ibcentre.org
+38 063 762 00 07
+380443830356
Regarding participation and booking booths at ECOSMART-2014:
Taras Kyzushyn
taras.kuzyshyn@ibcentre.org
+38 097 519 56 55
+380443830356