9th World Water Tech

Developing Resilient Water Systems for a Sustainable Future
The Water Network is excited to be a Marketing Partner at the upcoming #WorldWaterTech summit in London this February! Save £250 with discount code TWN250 and join the global water community in London . https://bit.ly/2CQPrcB
The 2020 World Water-Tech Innovation Summit is where water utility leaders, start-ups, technology giants, engineers and investors from all over the globe come to find solutions to today's challenges of digitisation, security, energy recovery and new water resources.
Held in central London on February 25-26, 2020, this is the place to meet start-ups, tech giants, operators and investors.
The summit brings together 300+ water leaders for two days of collaboration, dialogue and deal-making. Networking is made easy, including advance connections with speakers and delegates via a 1:1 meeting system and a dedicated networking hub throughout the summit.
Each year the World Water-Tech Innovation Summit is produced in partnership with the UK Department for International Trade and attracts large delegations from Europe, Asia, North America, South America, the Middle East, Africa and Australasia who come to showcase best-in-class innovation and form lasting business partnerships.
New for 2020: We will host a half-day, in-depth seminar and workshop programme exploring the question: How can the global water industry best meet the challenges of extreme flooding events?
Discover the full programme at: https://go.rethinkevents.com/WWIS20-agenda
If your 2020 goals include meeting international clients seeking new solutions and collaboration opportunities, join us along with 80+ powerful speakers at the #WorldWaterTech Innovation Summit in London. View the full speaker line-up: https://bit.ly/39TfPSb
2020 Confirmed Speakers Include: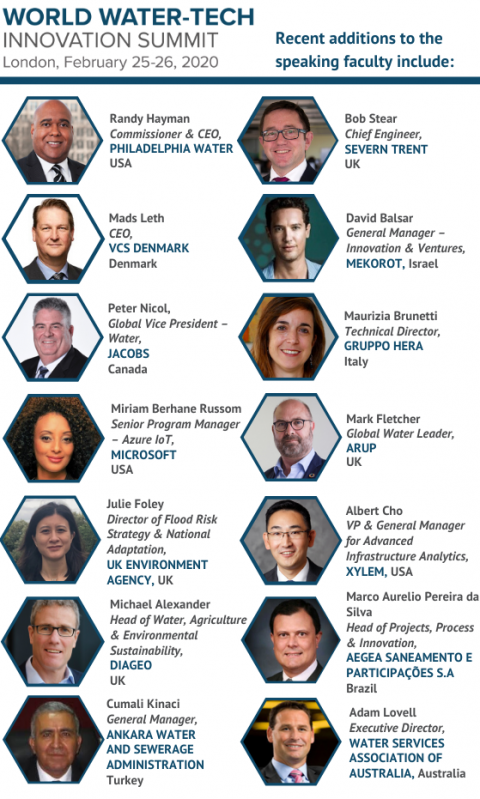 Muminu Badmus, Managing Director & CEO, Lagos Water Corporation, Nigeria
Fiona Griffith, Group Director, Isle Utilities, UK
Mogan Padayachee, Innovation & Technology Manager, Rand Water, South Africa
Mark Fletcher, Global Water Leader, Arup, UK
Miriam Berhane Russom, Senior Program Manager – Azure IoT, Microsoft, USA
Albert Cho, VP & General Manager for Advanced Infrastructure Analytics, Xylem, USA
Peter Nicol, Global Vice President – Water, Jacobs, Canada
Helge Daebel, Investment Director, Emerald Technology Ventures, Switzerland
Reinhard Hübner, Investment Manager, SKion GmbH, Germany
Alex Money, Director of in3 Programme, Smith School of Enterprise & the Environment, Oxford University, UK
Will Sarni, Director, Water Foundry, USA
Lila Thompson, CEO, British Water, UK
Greg Gomez, Vice President – Global Flow Instrumentation & International Water & Business Development, Badger Meter, Germany