ASFPM Annual National Conference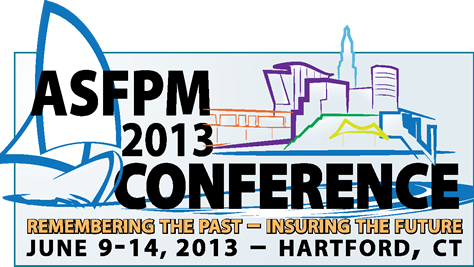 Join 1,200 of the nation's floodplain managers June 9 - 14, 2013, at the Connecticut Convention Center in Hartford, CT, as we pilot improvements in flood risk management and national policy. Government Officials, planners, engineers, consultants, watershed managers, flood protection product vendors, educators, and others will gather for the most comprehensive floodplain management conference in the world. Participants interact, exchange ideas, make contacts, form partnerships, and prepare for a more sustainable future for flood damage reduction.
Throughout the week, more than 250 of the industry's experts will conduct plenary and concurrent sessions and share the state-of-the-art in techniques, programs, and resources to accomplish flood mitigation, watershed management, and other community goals. A three-day comprehensive exposition features the materials, equipment, accessories, and services vital to get the job done. Supplementary technical field tours and training workshops provide in-depth training. Numerous networking activities offer additional opportunities to learn from each other.
The conference is conducted by the Association of State Floodplain Managers, the world's leading voice for sound floodplain management, with 34 Chapters and over 15,000 members world-wide.