AZ Water Association's 86th Annual Conference & Exhibition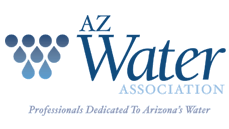 To the "Professionals Dedicated to Arizona's Water", please join us for the 86th Annual AZ Water Conference and Exhibition. Once again, we are excited the conference and exhibition will be held at the beautiful Renaissance Glendale Hotel & Spa. This venue provides the facilities and services we require as the event continues to grow in both attendance and exhibits.
The 2013 Annual Conference and Exhibition continues to raise the bar of excellence. An incredibly dedicated group of volunteers have a unifying vision to provide the AZ Water Association with something for everyone in the industry; Vendors, Manufacturers, Consultants, Policy & Decision Makers, Regulators, Owners, Operators, Academia Educators, and Elected Officials. This cadre of volunteers, led by John Masche, have spent a tremendous amount of time and energy putting together the conference program.
This year's theme "Sustainable Water, Sustainable Arizona" is very timely as our state continues to embrace the ever changing dynamics of the water profession. The conference will explore the meaning of sustainability. This exploration will begin with a simple and basic meaning defined as the ability to continue. This exploration will expand from this basic context to true WATER SUSTAINABILITY. Water sustainability requires a symbiotic balance of economic progress, environmental protection, and the wellbeing of people. The vision that Arizona grows where water flows is still very valid. However, we may want to embrace that "Sustainable Arizona Grows Where Sustainable Water Flows" may be more...sustaining.