Balkans Joint Conference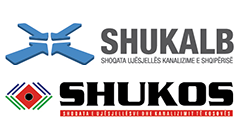 The Water Supply and Sewerage Association of Albania (SHUKALB) and Kosovo (SHUKOS), after a successful collaboration in 2013, are organizing the second Balkans Joint Conference and Exhibition , entitled " Water and Energy ", to be held in Tirana Albania, on 5-7 November 2014. The continuity of this Conference and Exhibition comes as an indispensable need of water sector professionals in the region to become acquainted with representatives of water utilities , central and local government institutions, donors community, private companies, as well as associations operating in the water sector.
The conference will provide a platform for discussion, where participants can share their knowledge and experience in the dealing with water sector issues, and in the same time it creates networking opportunities among professionals of the water sector in the Balkan region.
Parallel to the Joint Conference, a large Exhibition area will be present with participation from private sector companies engaged in the water sector offering equipments , technologies , chemicals and services.