BANGLADESH RENEWABLE ENERGY EXPO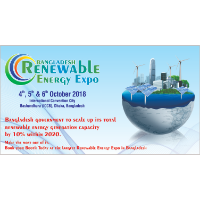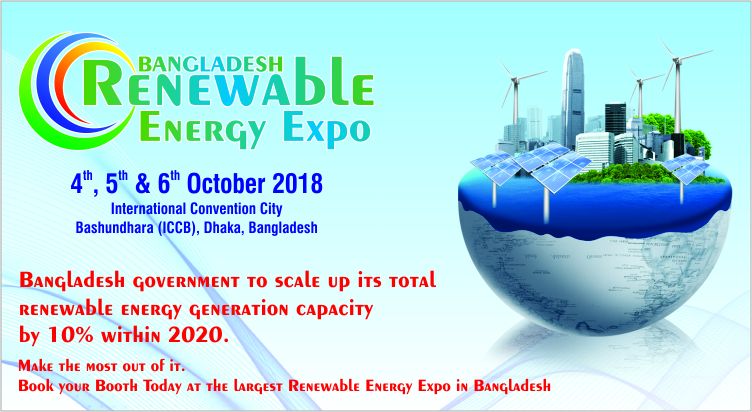 BANGLADESH RENEWABLE ENERGY EXPO is scheduled on 4th, 5th & 6th October 2018 at International Convention City Bashundhara (ICCB), Dhaka, Bangladesh. Organised by Renewable Energy Expo Team – a division of WT, the scope of exhibition is to stimulate the growth of renewable in the region through collaboration of technology and product sharing.
Considering the geographical characteristics of Bangladesh, there is a huge potential to harness energy from solar energy and biomass sources. The venture is proclaimed at the right time when there is a paradigm shift in the global trend towards massive deployment of solar power and other renewable along with investments worth billions of dollars in technology and green energy. This platform will be bringing together businesses, sustainable energy industry trade associations, government agencies, and energy policy research organizations to showcase the status and potential of the cross-section of renewable energy (bio fuels/biomass, geothermal, solar, wind) and energy efficiency technologies.
KEY FOCUS
§ Solar Energy Technology & Components
§ Photovoltaic Technology Conversion
§ Solar Thermal Applications
§ Solar and Low Energy Architecture
§ Electrical Energy Storages
§ Biogas & Biomass
§ Wind Energy Technology & Components
§ Hydro Power
§ Operation & Maintenance
For more details call us +91 44 4291 6900 I write to us at info@renewableenegyexpo.biz I www.reexpobangladesh.biz/