BANGLADESH WATER EXPO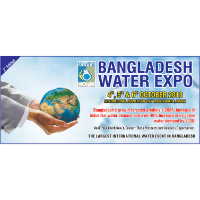 The Second Edition of BANGLADESH WATER EXPO scheduled on 4th, 5th, & 6th October 2018 at the International Convention City Bashundhara (ICCB), Dhaka, Bangladesh. Water Today is South Asia's leading knowledge sharing and marketing platform, catering to Water & Wastewater Industry. Our aim is to create a perfect business and networking platform for industry professionals and experts working towards a common goal: Profit with Responsibility.
BANGLADESH WATER EXPO has embarked as one of the Largest & Premium Annual International Water & Wastewater Event for continuously Redefining the Water Exhibitions in the South Asia. The overwhelming response from our past experience has enriched us in developing a more integrated approach to water management, innovation and financing. The scope of exhibition is to provide proactive networking platforms for the water & wastewater fraternity to converge and work together in achieving solutions to global water crisis. The event will explore the business opportunities for both Bangladeshi and Indian Water & Wastewater companies and create a perfect business platform for knowledge sharing & discovering New Markets.
For more details call us +91 44 4291 6900 or write to us at info@watertoday.org or visit our website www.bangladeshwaterexpo.biz