BLUE PLANET Berlin Water Dialogues 2022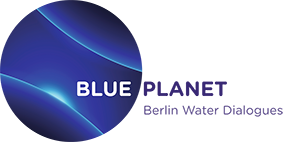 BLUE PLANET Berlin Water Dialogues is the global networking platform connecting innovative water management stakeholders from research, business and politics. This year's event focuses on " Artificial Intelligence: Reshaping the Water Industry ".
The online conference will address the potential and challenge of applying artificial intelligence (AI) in the water sector. Possible AI applications will be explored from the perspective of research, industrial innovations, water operator needs, and political and legal challenges.
Register now and discover innovative ideas presented in live keynote speeches, panel discussions and project pitches. You'll have abundant opportunities to participate in discussions, share your knowledge, and network with entrepreneurs and scientists in one-on-one meetings and breakout sessions.
Participation is free of charge. The event will be held in English. For more information, please visit the BLUE PLANET website at www.blueplanetberlin.de or follow on LinkedIn and Twitter .